Note4Students
From UPSC perspective, the following things are important :
Prelims level : SIPRI
Mains level : Progress in nuclear disarmament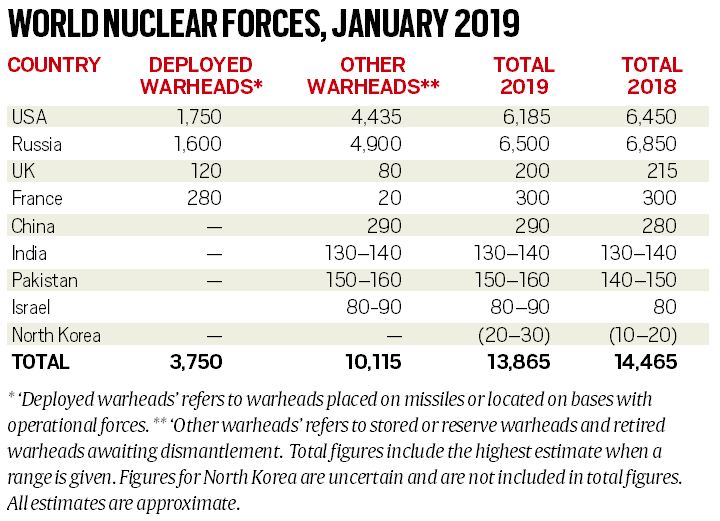 ---
A report by a think-thank has found that the worldwide total of nuclear warheads has decreased since 2018 but countries are modernizing their nuclear arsenals.
Worldwide nuclear arsenal
The 2019 Yearbook of the Stockholm International Peace Research Institute (SIPRI) is part-funded by the Swedish government.
It said that nine nuclear-armed countries (including India) had a total of some 13,865 nuclear weapons at the start of 2019, which is a decrease of 600 nuclear weapons from 14,465 at the start of 2018.
Figures for North Korea were not added to the total on account of uncertainty.
The report separately counts "deployed warheads" (warheads placed on missiles or located on bases with operational forces) and "other warheads" (stored or reserve warheads and retired warheads awaiting dismantlement).
Why decrease?
It attributed the decrease mainly to Russia and the US.
They together still account for over 90 per cent of all nuclear weapons.
They are further reducing their strategic nuclear arms pursuant to the implementation of the 2010 Treaty on Measures for the Further Reduction and Limitation of Strategic Offensive Arms (New START).
---
Back2Basics
New START Policy
The New Strategic Arms Reduction Treaty (New START) pact limits the number of deployed nuclear warheads, missiles and bombers and is due to expire in 2021 unless renewed.
The treaty limits the US and Russia to a maximum of 1,550 deployed nuclear warheads and 700 deployed missiles and bombers, well below Cold War caps.
It was signed in 2010 by former US President Obama and then-Russian President Dmitry Medvedev.
It is one of the key controls on superpower deployment of nuclear weapons.
If it falls, it will be the second nuclear weapons treaty to collapse under the leadership of US President Donald Trump.
In February, US withdrew from the 1987 Intermediate-Range Nuclear Forces Treaty (INF), accusing Moscow of violating the agreement.