Note4Students
From UPSC perspective, the following things are important :
Prelims level : 20th Livestock Census
Mains level : State of livestocks in India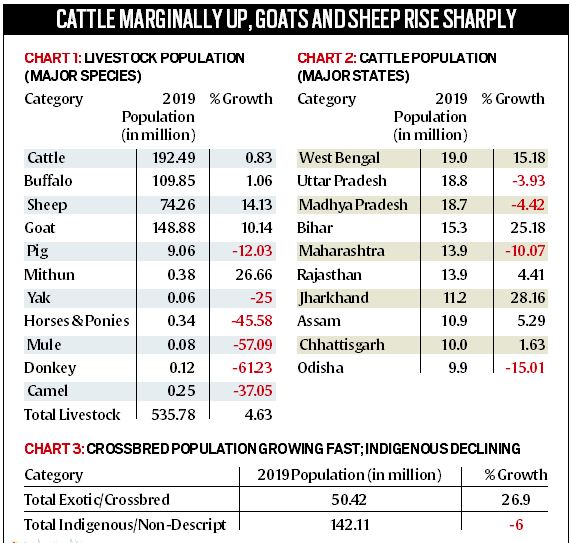 ---
The Department of Animal Husbandry & Dairying released the results of the latest livestock census, which provides headcount data of domesticated animals in the country.
Livestock Census
Under the livestock census, various species of animals possessed by households, household enterprises or non-household enterprises and institutions are counted at site — both in rural and urban areas.
In other words, it covers all domesticated animals in a given period of time.
India has been conducting livestock censuses periodically since 1919-20. The last livestock census was conducted in 2012.
This is the 20th one, started in October 2018. For the first time data has been collected online through tablet computers.
Which animals and birds are counted in this census?
The census tracks the population of various species of domesticated animals such as cattle, buffalo, mithun, yak, sheep, goat, pig, horse, pony, mule, donkey camel, dog, rabbit and elephant and poultry birds (fowl, duck, emu, turkeys, quail and other poultry birds).
What are the population trends for different kinds of cattle?
While the overall cattle population has increased by 0.8 per cent between 2012-19, the population of indigenous cattle has come down by 6 per cent — from 151 million to 142.11 million.
However, this pace of decline is much slower than the 9 per cent decline between 2007 and 2012.
In contrast, the population of the total exotic/crossbred cattle has increased by almost 27 per cent to 50.42 million in 2019.
How do the data show an eastward shift of cattle, as mentioned earlier?
West Bengal has emerged as the state with the largest number of cattle in 2019 followed by Uttar Pradesh, and Madhya Pradesh.
In 2012, Uttar Pradesh had the largest number of cattle but this population has come down by almost 4 per cent since.
The cattle population is also down in Madhya Pradesh (4.42%), Maharashtra (10.07%) and Odisha (15.01%).
States that registered the maximum increases between 2012 and 2019 were West Bengal (15.18%), Bihar (25.18%) and Jharkhand (28.16%).
What are the implications of the decline in the numbers of indigenous cattle?
Due to continuous fall in productivity, indigenous breeds of cattle have become liabilities for farmers, forcing them to desert the unproductive cows.
Farmers find other animals such as buffaloes, goats and sheep much more productive.
Unlike cows, if these animals become unproductive, they can be sold and slaughtered for further processing.
Experts believe this could have long term health and environmental impacts because the milk of indigenous breed has higher nutritional value than that of crossbreeds.
Moreover, there is a danger of losing these indigenous breeds, which have been developed and sustained by generations from time immemorial.