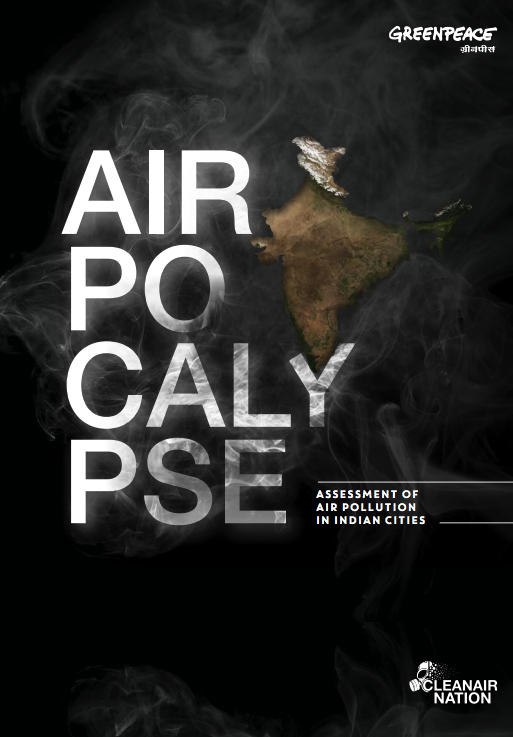 Note4students
Mains Paper 3: Environment | Conservation, environmental pollution and degradation, environmental impact assessment
From UPSC perspective, the following things are important:
Prelims level: Airpocalypse III Report
Mains level: Potential threats of Nitrogen Pollution from various sources
---
News
Greenpeace faults Centre's scheme
There are 139 Indian cities that breach air pollution standards but are not included in the Centre's National Clean Air Programme (NCAP), says a report by Greenpeace.
The NCAP was launched by the government earlier this month and is a ₹300 crore initiative to reduce particulate matter (PM) pollution by 20-30% in at least 102 cities by 2024.
Highlights of Airpocalypse III
Airpocalypse III, as the Greenpeace report is titled, analyses air pollution data of 313 cities and towns for the year 2017.
Of these 313 cities, 241 (77%) had PM10 levels beyond the National Ambient Air Quality Standards (NAAQS).
While 102 of these cities were included in the NCAP, the remaining 139 cities were left out.
That's because the government's list of 102 cities relied on average pollution data until 2015, whereas Airpocalypse III used data updated up to 2017.
Action plan under NCAP
The 102 cities, identified as hotspots of pollution, were asked to submit a plan for how they would address the problem.
Broadly, the plans include increasing the number of monitoring stations, providing technology support, conducting source apportionment studies, and strengthening enforcement.
As part of the NCAP, cities have been given a specified number of days to implement specific measures such as "ensuring roads are pothole-free to improve traffic flow and thereby reduce dust" (within 60 days) or "ensuring strict action against unauthorized brick kilns" (within 30 days).
It doesn't specify an exact date for when these obligations kick in.
Fault-line in NCAP
Even if the NCAP were to able to reduce pollution by 30% by 2024, 153 cities would still be left with pollution levels exceeding the NAAQS, the report said.
Of the 139 cities that have not been included in the non-attainment list under the NCAP, there are several cities that have a population of more than 1 million, and PM levels (recorded in 2017) above NAAQS.
Since the data for 2017 was available when NCAP was finalised, it would have made more sense to update the non-attainment list to include all such cities in the final NCAP.