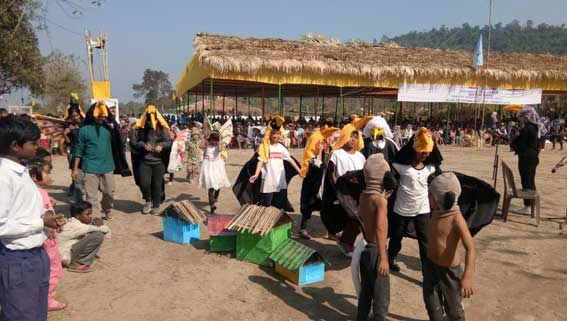 Note4students
Mains Paper 1: Arts and Culture| Salient aspects of Art Forms, Literature and Architecture from ancient to modern times.
From UPSC perspective, the following things are important:
Prelims level: Hornbill Festival, Great Indian Hornbill
Mains level: India's rich cultural treasure and ways to preserve it
---
News
The government of Arunachal Pradesh has declared the Pakke Paga Hornbill Festival (PPHF)–the state's only conservation festival, as a "state festival".
Pakke Paga Hornbill Festival (PPHF)
The first-ever PPHF was held on January 16–18, 2015.
The organizers had a number of objectives in mind-
to recognise the role played by the resident Nyishi tribe in conserving hornbills in the Pakke Tiger Reserve (PTR),
to devise alternative sources of income for a region that relies on hunting and logging, and
to tell the rest of the country about the wonders of the PTR and its surrounding areas.
As part of the festival, visitors are treated to cultural programmes, food stalls, plays, sightseeing, river and village walks, bird-watching, screenings of short films as well as local tribal sports and dances.
About Great Indian Hornbill
The great hornbill (Buceros bicornis) also known as the great Indian hornbill or great pied hornbill, is one of the larger members of the hornbill family.
The great hornbill is long-lived, living for nearly 50 years in captivity.
It is predominantly fruit eating, but is an opportunist and preys on small mammals, reptiles and birds.
Its impressive size and colour have made it important in many tribal cultures and rituals.
IUCN status: Vulnerable (uplisted from Near Threatened in 2018).
It is also listed in Appendix I of CITES.