---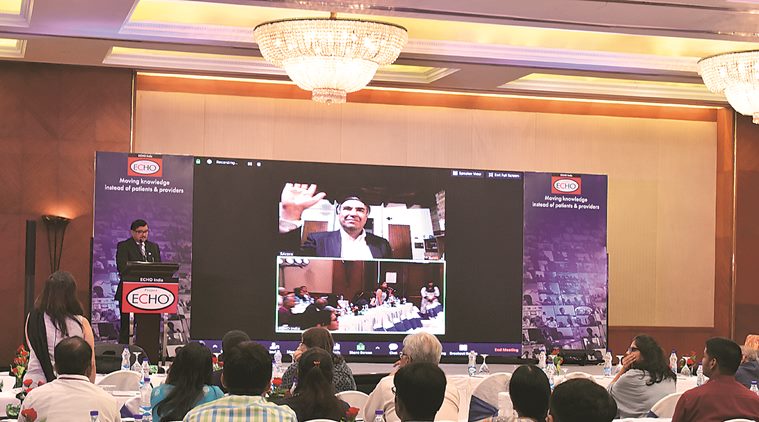 Note4students
Mains Paper 2: Governance | Issues relating to development and management of Social Sector/Services relating to Health, Education, Human Resources.
From UPSC perspective, the following things are important:
Prelims level: Particulars of the ECHO Model, Ayushman Bharat Programme
Mains level: Read the attached story
---
News
Solving the Manpower Issue
One of the biggest challenges in the rollout of Ayushman Bharat is manpower training for the 1,53,000 health and wellness centres.
But a hub-and-spoke model developed by the University of New Mexico (UNM) has come to the rescue.
The ECHO Model for Telemedicine
Developed by Indian-origin doctor Dr Sanjeev Arora in Albuquerque, ECHO (Extension for Community Healthcare Outcomes) is a collaborative model of medical education and care management that empowers health workers.
For the HWCs, ECHO is one of several programmes that will be used to train ASHAs as, for the first time, primary care in India moves beyond reproductive health and vaccination to include screening for non-communicable diseases, geriatric care and mental health.
The ECHO model does not actually "provide" care to patients, but it dramatically increases access to specialty treatment in rural and underserved areas through the use of teleconferencing.
Thegoal is to use the telemedicine platform so that healthcare performance may be enhanced by access to knowledge. This programme is to conduct the training of ASHAs.
Particulars of the training
A team from UNM travelled to India to kick off the first installment of the training. The first batch of 160 officials from four states was trained in ECHO over three days at a hotel here.
Participants were acclimatized with the ECHO model consisting of:
an essentially non-hierarchical system of knowledge sharing;
Zoom, the software used for teleconferencing facility;
the essentials for setting up their own ECHOs; and also
an actual ECHO session where UNM professors joined in.
The participant states — Gujarat, Uttar Pradesh, Delhi and Maharashtra — also clarified their doubts during the exercise.
Under Ayushman Bharat, the plan is to create eight ECHO hubs, including in AIIMS Delhi, AIIMS Bhopal, KGMU Lucknow and PHI Nagpur.