Note4Students
From UPSC perspective, the following things are important :
Prelims level : Not Much
Mains level : Strategies to combat farmer's distress in India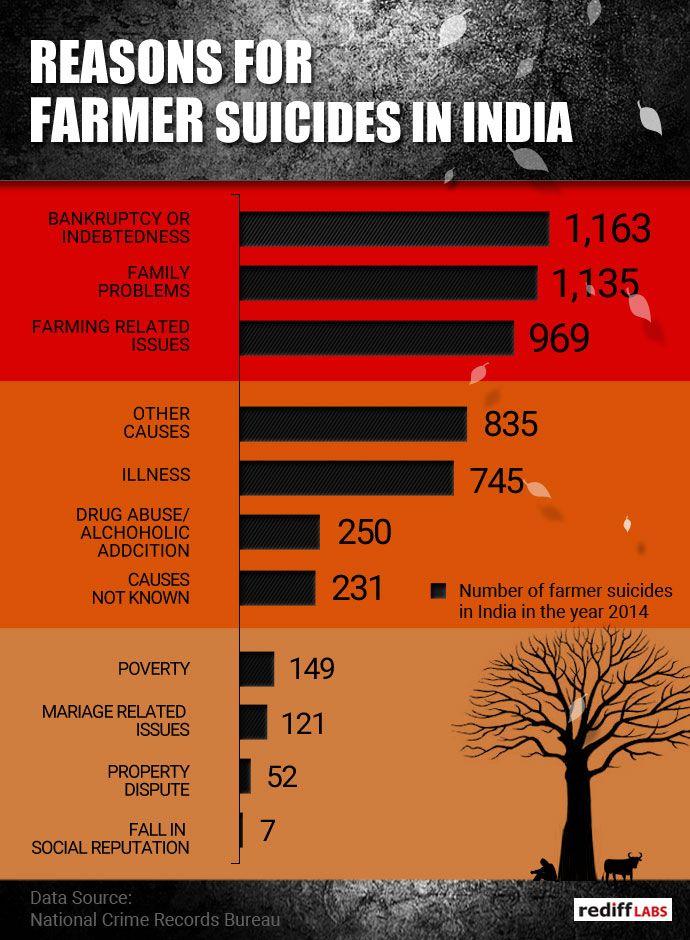 ---
Farmer suicides, which have till now been studied economically and agriculturally, are now being looked at from behavioural and psychological angles.
Study on farmer's suicide
A study is being conducted under the National Agricultural Science Fund of IICAR in three states — Punjab, Telangana and Maharashtra.
Till now the issue of farmer suicide was being looked at only from economic and agricultural angles.
The study has looked at it from behavioural, psychological and cultural perspectives in addition to the earlier two.
Major causes of suicide
Since most discussions and parleys on suicides are overtaken by issues of crop failures, rising debts, new farming techniques, the psychological aspect is largely ignored.
One of the major causes behind suicidal intent is depression, found the researchers.
It needs to be understood that at times a farmer under a debt of Rs 2 lakh shows a tendency to end his life, while another under a debt of Rs 10 lakh does not.
Need of the hour: Psychological assistance
The study suggested roping in psychologists and counselors on various issues.
They included battling depressive ruminations, suicidal ideations, negative cognitions, hopelessness, helplessness.
It aimed at recognising and managing stressors like financial distress, relationship problems, and enhancing psychological resources through emotional well being, and mindfulness.
Model of 7's
The researchers developed a '7D' model of triggering and confounding factors and a '7R' model of preventive and protecting factors to deal with the problem of farmer suicides.
'7D' model
It encapsulates:
Drugs,
Debt,
Disease,
Disputes,
Depression,
Disrepute and
Death
 '7R' model
It looks at prevention of suicides. It consists:
Remunerative agriculture,
Resilience building,
Rational expenditure,
Reassurance through connectivity,
Righteous conduct,
Religious support and
Responsible reporting
Way forward
Farmers don't need money only, they need motivation too.
Along with subsidies, increased farm profits, the focus should also be on resilience building and problem solving skills of farming families.
In suicide-prone states, agricultural institutes and scientists should start distributing seeds of resilience, tolerance and contentment among farmers, suggested researchers.
Agri universities can play a powerful role in dissipating the culture of shame associated with mental illness and depression as it is the fear of stigma that acts as a barrier to seek appropriate treatment.