Note4Students
From UPSC perspective, the following things are important :
Prelims level : Bhabha Kavach
Mains level : Not Much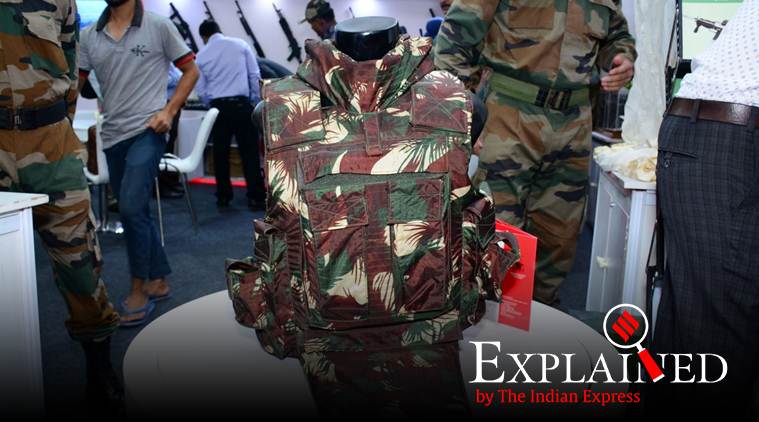 ---
Bhabha Kavach
Bhabha Kavach, billed as "India's lightest bullet-proof jacket", was launched at the International Police Expo 2019 in New Delhi.
The bullet-proof jacket is developed jointly by the Ordnance Factories Board and the public sector metals and metal alloys manufacturer MIDHANI.
It can withstand bullets from an AK-47 assault rifle (7.62 mm hard steel core bullets), and the 5.56 mm INSAS rifle.
The Kavach weighs 9.2 kg, a half kilogram less than the weight for a bullet-proof jacket prescribed by the Union Ministry of Home Affairs (MHA).
The jacket is powered with nano technology from Bhabha Atomic Research Centre and has a five-year warranty.
Stands all Quality standards
The trials have validated that the Bhabha Kavach meets US National Institute of Justice (NIJ) Level III standards, which guarantees protection against 7.62 mm NATO-standard bullets.
Most army bulletproof jackets meet the lesser NIJ Level II standard, which protects soldiers from 9 mm bullets fired from a carbine or handgun.
That is because the army places a premium on mobility as well as protection and does not want a heavy jacket.
Imbibing strength
Bhabha Kavach is built from layers of "high-density, high-tenacity polyethelene, which are thermo-sealed" by MIDHANI.
This means the layers are fused together at high temperature.
This forms a thick, hard armour plate, which is then sprayed with BARC's carbon nanomaterial.
Soaking into the layers of the plate, the nanomaterial instils the toughness and tenacity needed to slow down and trap a bullet as it passes through the plate.
Bulletproof jacket armour is of two types. Soft armour provides lesser protection, suitable for threats from handgun and small arms bullets and is worn by bodyguards and VIPs against personal threats.
Hard armour is stronger and heavier and is designed to stop high calibre rounds.
NIJ Level IV jackets even provide protection against armour-piercing rounds.
Each Bharat Kavach has four hard armour plates, which protect the wearer from the front, back, and either side.