Note4Students
From UPSC perspective, the following things are important :
Prelims level : Cartosat Series
Mains level : Cartosat and its applications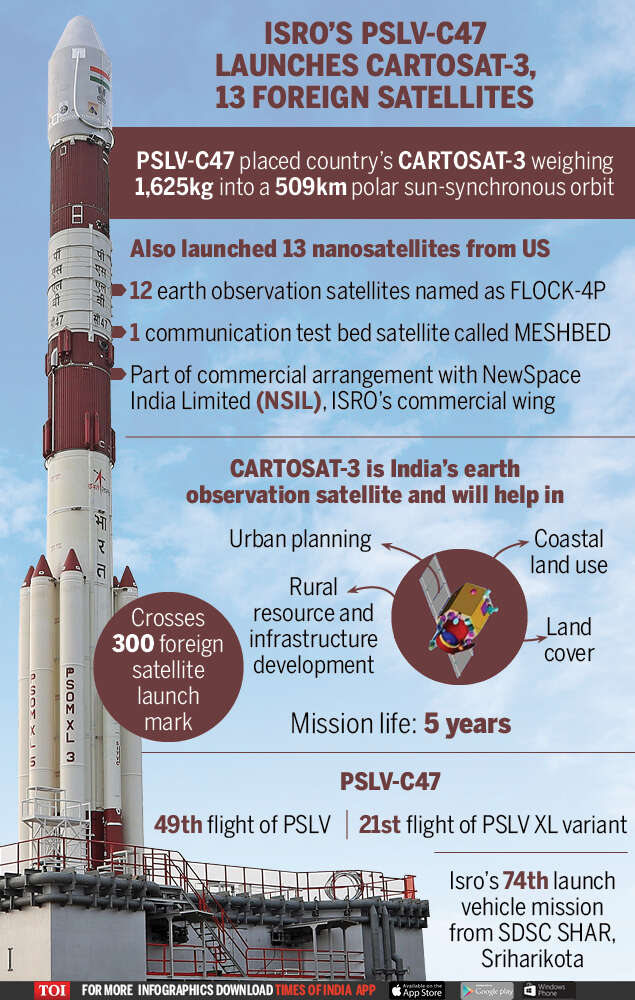 ---
Advanced earth observation satellite Cartosat-3 has been launched from the Satish Dhawan Space Centre SHAR at Sriharikota.
Cartosat-3
At 1,625 kg, Cartosat-3 is unusually heavy and more than double the mass of the previous eight in its class.
Many new technologies have been built in, such as a highly agile or flexible camera; high-speed data transmission, advanced computer system and new power electronics.
It is aimed to have the `sharpest eye' of civil remote sensing satellites in the world.
It will be carried by PSLV-C47.
Thirteen small satellites of two U.S. customers will be the secondary payloads.
What's so special about Cartosat-3?
A key feature of the Cartosats is that they help to detect changes in natural geographical or man-made features.
Their cameras can `look back and forth' in an angle to generate continuous spot images.
One of Cartosat-3's cameras offers a ground resolution of 25 cm – this means it can pick up an object of a minimum of that size from a height of around 500 km.
Currently, WorldView-3, a satellite owned by US company Maxar, has the best ground resolution of 31 cm.
Cartosat-3 ushers in the third generation of high-resolution `optical imaging' satellites that enable precise cartographic or mapping activities, apart from their unstated military use.
Cartosat series
The Cartosat satellites are a series of Indian earth observation satellites built and operated by the ISRO.
The Cartosat series is a part of the Indian Remote Sensing Program. They are used for Earth's resource management defence services and monitoring.
So far, the ISRO has orbited eight Cartosats since May 2005.
Data from most of them, especially the last four Carto-2 series ones, launched in relatively quick succession in the last three years, are exclusively used by the armed forces.
The second one, Cartosat-2 of January 2007, breached the 1-metre threshold, which was an ambitious benchmark at that time.
The previous best view from a Cartosat was 65 cm, as put in the last three or four satellites in the Cartosat-2 series – 2C, 2D, 2E and 2F.
However, an existing policy allows only government and government authorised agencies to access ISRO's high-resolution imageries below a resolution of 1 metre.
Uses
The imageries from Cartosat series satellites are useful for cartographic applications, urban and rural applications, infrastructure planning, coastal land use and regulation.
It also finds applications in utility management such as monitoring road networks, water grids or distribution, creation of land use maps, among others.