Note4Students
From UPSC perspective, the following things are important :
Prelims level : About the report
Mains level : Impact of climate change on human mortality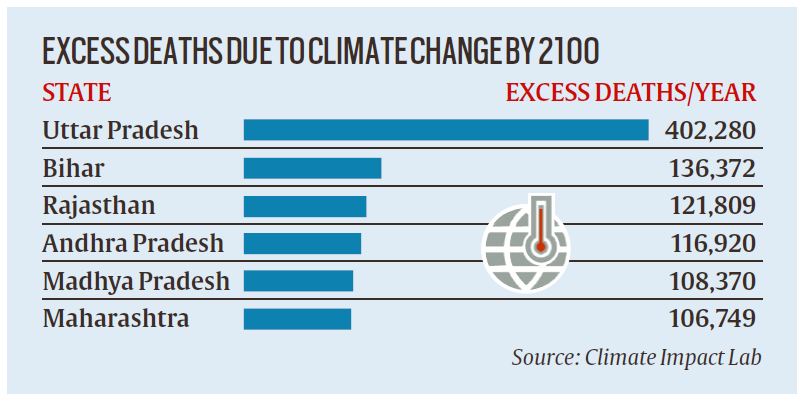 ---
A new study has projected that 1.5 million more Indians may die per year from extreme heat due to climate change by 2100.
About the Report
The study, 'Climate Change and Heat-Induced Mortality in India', was conducted by the Climate Impact Lab in collaboration with the Tata Centre for Development at the University of Chicago.
Highlights
India's energy use will be more than double in the next 20 years, driven largely by fossil fuels.
If emissions continue to be as high as they are at present, India will see a death rate of about 60 per 100,000 by 2100, the study says.
This projected death rate is double the current death rate from oral cancer in India, which is the most common cancer in the country.
It says the average annual temperature in India is expected to increase from 24°C to 28°C.
The number of extremely hot days (above 35°C) across India is expected to increase by over eight times, from 5.1 per year in 2010 to 42.8 in 2100. By 2050, there are expected to be 15.8 extremely hot days a year.
Statewise data
The NCR is projected to see 22 times more extremely hot days and more than 23,000 climate-related deaths annually by 2100 in a high-emission scenario.
Odisha is projected to see the highest increase in the number of extremely hot days, at about 30 times more than what it is today.
Punjab is projected to experience 85 extremely hot days a year, the highest among all states.
Overall, the six states of UP (4,02,280), Bihar (1,36,372), Rajasthan (1,21,809), Andhra (1,16,920), MP (1,08,370) and Maharashtra (1,06,749) are projected to account for over 64 per cent of the heat-related deaths.
Affected by wealth
According to the report, the risks associated with extreme temperatures vary around the world and are dependent upon the wealth of a country.
For instance, the impact of a single hot day on the annual mortality rate of a wealthy and warm city such as Houston, US, will be 0.4 deaths per 100,000.
The same will be double for a warm and poorer city such as Delhi, at 0.8 deaths per 100,000.