Note4Students
From UPSC perspective, the following things are important :
Prelims level : Locusts Swarm
Mains level : Pests Management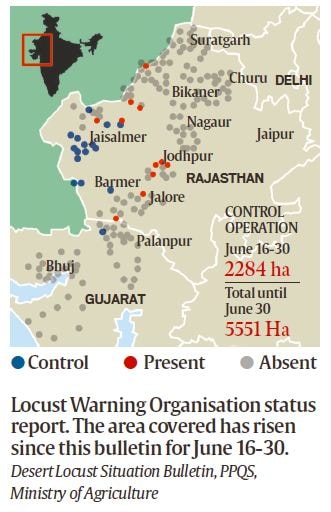 ---
Sharing borders with neighbouring Pakistan, Gujarat is under attack from hoppers — new-born locusts — that have flown in across the international border.
Gujarat has not witnessed such an invasion of locusts since 1993-94.
Locusts
Locusts are certain species of short-horned grasshoppers that have a swarming phase.
Swarming refers to a collective behaviour in which locusts aggregate together just like flocks of birds.
These insects are usually solitary, but under certain circumstances they become more abundant and change their behaviour and habits, becoming grouped.
They form bands of wingless nymphs which later become swarms of winged adults.
Both the bands and the swarms move around and rapidly strip fields and cause damage to crops.
The adults are powerful fliers; they can travel great distances, consuming most of the green vegetation wherever the swarm settles.
Havoc created by locusts
Locust swarms devastate crops and cause major agricultural damage and attendant human misery—famine and starvation.
They occur in many parts of the world, but today locusts are most destructive in sustenance farming regions of Africa.
The desert locust (Schistocerca gregaria) is notorious. Found in Africa, the Middle East, and Asia, they inhabit some 60 countries and can cover one-fifth of Earth's land surface.
Desert locust plagues may threaten the economic livelihood of one-tenth of the world's humans.
Control measures in India
India has a Locust Control and Research scheme that is being implemented through the Locust Warning Organisation (LWO), established in 1939.
It was amalgamated in 1946 with the Directorate of Plant Protection Quarantine and Storage (PPQS) of the Ministry of Agriculture.
The LWO's responsibility is monitoring and control of the locust situation in Scheduled Desert Areas mainly in Rajasthan and Gujarat, and partly in Punjab and Haryana.
The LWO publishes a fortnightly bulletin on the locust situation.
The latest bulletin on the PPQS website, for the second fortnight of June, said control operations had covered 5,551 hectares by June 30.
With inputs from: National Geographic