Note4Students
From UPSC perspective, the following things are important :
Prelims level : DMIC, SIR
Mains level : Smart Cities in India
Niti Aayog CEO Amitabh Kant pushed the idea of Dholera as the first "green city in the world".
Dholera Special Investment Region
The Dholera Special Investment Region is one of the several Greenfield cities that have been planned on the Delhi Mumbai Industrial Corridor (DMIC).
Located about 100 kilometres south-west of Ahmedabad, Dholera will be connected to the city by a six-lane Expressway with a metrorail running through its centre.
A greenfield international airport is also being developed in the vicinity which will unburden the Sardar Vallabhbhai Patel International airport of some of its traffic.
Six of the 24 nodes identified on the DMIC are in Gujarat.
The government had set up the Gujarat Industrial Corridor Corporation (GICC), an SPV to oversee development on the DMIC, a decade ago.
What's so special ?

The Dholera Special Investment Region (SIR) is slated to be bigger than Singapore.
It covers an estimated 920 square kilometers, encompassing 22 villages of Dholera taluka of Ahmedabad district and is strategically located between Ahmedabad, Vadodara and Bhavnagar.
The Dholera SIR entails development of total 9225 hectares of land up to 2040 and will employ an estimated 8 lakh persons and will house 20 lakh inhabitants.
Phase-I of the project which entails developing basic infrastructure in 22.5 square kilometres of activation area will cost roughly Rs 4,400 crore.
In Phase-I, 52 per cent will be industrial and 28 per cent will be residential.
---
Back2Basics
Special Investment Region (SIR)
Special Investment Region (SIR) is a concept similar to Special Economic Zone.
However, this is a unique term applied in the territory of the state of Gujarat.
The Gujarat government has enacted a legal framework for the SIR – The Gujarat Special Investment Region Act – 2009(GSIR -2009) which has come into effect from 6th January, 2009.
SIR refers to an existing or proposed Investment Region with an area of more than 100 sq. Kms or Industrial Area with an area of 50-100 sq. Kms declared so by the state under Section 3 of the Gujarat Special Investment Region Act – 2009.
By giving SIR status, Gujarat govt. proposes to develop the investment region /industrial area as global hubs of economic activity supported by world class infrastructure, premium civic amenities, centers of excellence and proactive policy framework.
Delhi–Mumbai Industrial Corridor Project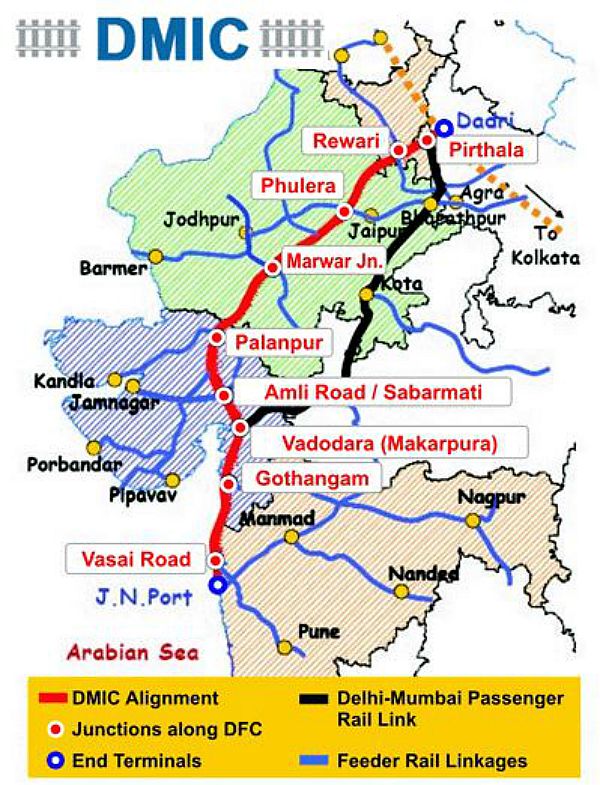 The DMIC Project is a planned industrial development project between India's capital, Delhi and its financial hub, Mumbai.
It is one of the world's largest infrastructure projects with an estimated investment of US$90 billion and is planned as a high-tech industrial zone spread across six states as well as Delhi.
The investments will be spread across the 1,500 km long Western Dedicated Freight Corridor which will serve as the industrial corridor's transportation backbone.
It includes 24 industrial regions, eight smart cities, two international airports, five power projects, two mass rapid transit systems, and two logistical hubs.