Note4Students
From UPSC perspective, the following things are important :
Prelims level : LDN
Mains level : State of afforestation in India

---
Union Environment Ministry has committed to rejuvenate 50 lakh hectares (5 million) of degraded land between 2021 and 2030.
A Centre for Excellence would be set up in Dehradun for land degradation neutrality.
Why such move?
India faces a severe problem of land degradation, or soil becoming unfit for cultivation. About 29% or about 96.4 million hectares are considered degraded.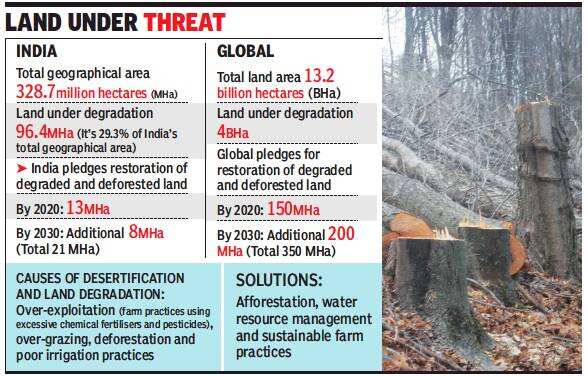 The State of India's Environment report, 2017 calculates that nearly 30 per cent of India is degraded or facing desertification. This figure touches 40 to 70 percent in eight states—Rajasthan, Delhi, Goa, Maharashtra, Jharkhand, Nagaland, Tripura and Himachal Pradesh.
Various estimates put the economic costs of degradation in the country at 2.54% of its GDP.
Land Degradation Neutrality
Land degradation neutrality (LDN) is a condition where further land degradation (loss of productivity caused by environmental or human factors) is prevented and already degraded land can be restored.
LDN has been defined by the Parties to the Convention as:
    – A state whereby the amount and quality of land resources, necessary to support ecosystem functions and services and enhance food security, remains stable or increases within specified temporal and spatial scales and ecosystems.
Benefits of LDN
As land is fixed in quantity, there is ever-increasing competition to control land resources and capitalize on the flows of goods and services from the land.
LDN represents a paradigm shift in land management policies and practices.
It is a unique approach that counterbalances the expected loss of productive land with the recovery of degraded areas.
This has the potential to cause social and political instability, fueling poverty, conflict and migration.
Implementation
The implementation of LDN requires multi-stakeholder engagement and planning across scales and sectors, supported by national-scale coordination that utilizes existing local and regional governance structures.
UNCCD and the UN Environment Programme (UN Environment) came together to mark the United Nations General Assembly adoption of the "2030 Agenda for Sustainable Development".
To date, over 120 countries have engaged with the LDN Target Setting Programme and considerable progress has been made since the 2030 Agenda was adopted in 2015.
India's initiatives
This January, India became part of the "Bonn Challenge", a global effort to bring 150 million hectares of the world's deforested and degraded land into restoration by 2020, and 350 million hectares by 2030.
India's pledge is one of the largest in Asia.
Schemes such as the Pradhan Mantri Fasal Bima Yojana, Soil Health Card Scheme, Soil Health Management Scheme and Pradhan Mantri Krishi Sinchayee Yojana are seen as prongs to tackle this land degradation.
India for the first time will be hosting the 14th session of the Conference of Parties (COP-14) of the United Nations Convention to Combat Desertification (UNCCD) from September 2 to 13.
---
Back2Basics
United Nations Convention to Combat Desertification (UNCCD)
Established in 1994, the UNCCD is the only legally binding international agreement linking environment and development issues to the land agenda.
It addresses specifically the arid, semi-arid and dry sub-humid areas, known as the drylands, where some of the most vulnerable ecosystems and peoples can be found.
2006 was declared "International Year of Deserts and Desertification".