Note4Students
From UPSC perspective, the following things are important :
Prelims level : Read the attached story
Mains level : Legal Persons and its wide definition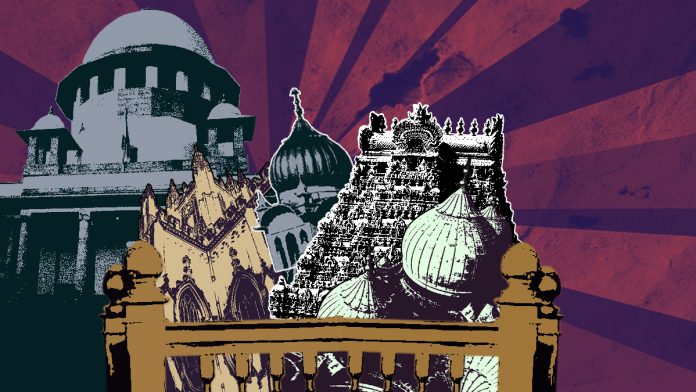 ---
Among the parties in a famous temple suit appeals now being heard by the Supreme Court is the Lord represented by His "next friend".
God as a juristic person
A juristic person, as opposed to a "natural person" (that is, a human being), is an entity whom the law vests with a personality.
The Supreme Court has clarified this in the Shiromani Gurdwara Parbandhak Committee vs Som Nath Dass and Others (2000) order.
It states that the very words Juristic Person connote recognition of an entity to be in law a person which otherwise it is not.
In other words, it is not an individual natural person but an artificially created person which is to be recognised to be in law as such.
Gods, corporations, rivers, and animals, have all been treated as juristic persons by courts.
From when did this recognition begin?
The treatment of deities as juristic persons started under the British.
Temples owned huge land and resources, and British administrators held that the legal owner of the wealth was the deity, with a shebait or manager acting as trustee.
In 1887, then Bombay HC held in the Dakor Temple case: "Hindu idol is a juridical subject and the pious idea that it embodies is given the status of a legal person.
This was reinforced in the 1921 order in Vidya Varuthi Thirtha vs Balusami Ayyar, where the court said, "under the Hindu law, the image of a deity… (is) a 'juristic entity', vested with the capacity of receiving gifts and holding property".
This idea is now established in Indian law.
God: Not always a legal person
A juristic entity or person is one in whom the law reposes rights or duties in its own name.
A company is a juristic person, who can hold or deal with property in its own name.
While God as an abstract concept is not a juristic entity, deities in Hindu law have been conferred personhood, as capable of being bestowed with property, or leading it out or suing to take back possession.
Thus, by a legal fiction installed deities at Hindu places of worship have been treated like other real persons for the purpose of law
However, not every deity is a legal person. This status is given to an idol only after its public consecration, or pran pratishtha.
In Yogendra Nath Naskar vs Commissioner Of Income-Tax (1969), the Supreme Court ruled: "It is not all idols that will qualify for being 'juristic person' but only when it is consecrated and installed at a public place for the public at large."
The rights deities have
Apart from owning property, paying taxes, suing, and being sued, what else do deities as 'legal persons' do?
In the Sabarimala case one of the arguments presented against allowing women of menstruating age entry into the temple was that this would violate the right to privacy of Lord who is eternally celibate.
It was argued that deities have property rights, but not fundamental rights or other constitutional rights.
This was upheld by Justice D Y Chandrachud in the Sabarimala judgment.
Other than Hinduism
A mosque has never been held as a juristic person, because it's a place where people gather to worship; it is not an object of worship itself. Neither has a church.
In Shiromani Gurdwara Parbandhak Committee vs Som Nath Dass and Others (2000), the SC ruled that the Guru Granth Sahib cannot be equated with other sacred books.
Guru Granth Sahib is revered like a Guru and is the very heart and spirit of gurudwara.
The reverence of Guru Granth on the one hand and other sacred books on the other hand is based on different conceptual faith, belief and application.
However, the court clarified that "every Guru Granth Sahib cannot be a juristic person unless it takes juristic role through its installation in a gurudwara or at such other recognised public place."
Who else holds such legal status?
In May, the Punjab and Haryana High Court held that the "entire animal kingdom" has a "distinct legal persona with corresponding rights, duties, and liabilities of a living person".
On March 20, 2017, the Uttarakhand High Court declared that the Ganga and Yamuna would be legally treated as "living people," and enjoy "all corresponding rights, duties and liabilities of a living person".
The order was stayed by the Supreme Court in July that year because it "raised several legal questions and administrative issues".