Note4Students
From UPSC perspective, the following things are important :
Prelims level : Not Much
Mains level : Kashmir issue and its international prospects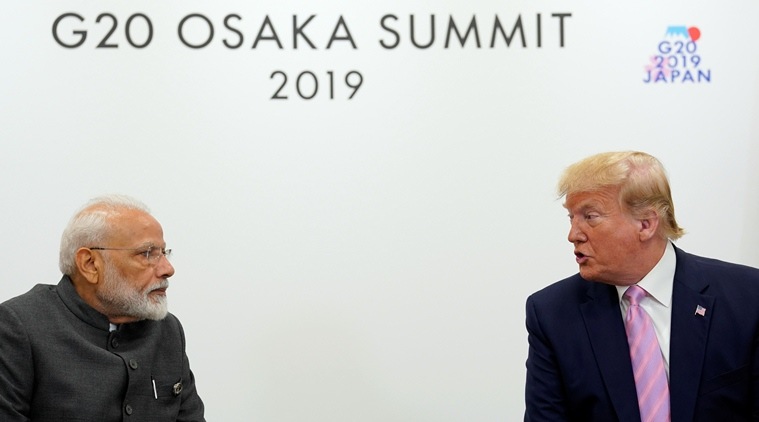 ---
US President Donald Trump threw a bombshell at India during a meeting with visiting Pakistan PM Imran Khan.
He bluffed by saying that PM Modi had asked him to mediate on Kashmir.
An offer unwanted
How this will impact the present uneven relations between US-India remains to be seen. It will be for diplomats to manage the fallout if any.
The most likely assessment on both sides may be that the episode should be buried quietly, and both countries should move ahead.
India stands for Bilateralism
India's insistence on bilateralism has historically stemmed from the distrust of outsiders meddling in its internal affairs.
The framework for bilateral resolution of problems between India and Pakistan was written into the 1972 Shimla Agreement, reiterated 27 years later in the Lahore Declaration.
The world was out to demonstrate that India's secular nationhood project was doomed, and that outside mediators viewed the Kashmir view through Pakistani eyes.
India has sought outside help from the world, not for mediation, but to rein in Pakistan's meddling of terror in Kashmir.
Why no international mediation?
Soon after Nehru took Pakistan's invasion in 1947 to the UN, he had had second thoughts about it.
Subsequent UN missions, including the Dixon Mission led to the Dixon Plan of 1950 for partition of some areas of J&K between India and Pakistan.
Plus they proposed for a plebiscite in the Valley.
This strengthened India's determination to shut the door to international mediation.
Since then, India has resisted attempts at internationalizing the Kashmir problem and mostly succeeded in making it clear to the world that there is no place for a third party in the room.
US was always consulted
I. During Kargil War
In 1999, one year after India and Pakistan went nuclear, it was US intervention that brought the Kargil crisis to an end.
The Vajpayee government had been in touch with the Clinton administration to get the Sharif government to call off the intrusion in Kargil even as it fought Pakistani forces.
Pakistan then took Clinton's help for a face-saving ceasefire with India that would include a settlement on Kashmir.
It had to agree to an unconditional withdrawal of Pakistani forces from Kargil back to the Line of Control.
Clinton denied a face-saver of mediation over Kashmir, and reaffirmed US commitment to the bilateral Lahore Declaration signed earlier.
II. UNSC issues
After 9/11, which ushered in a UNSC-backed international architecture against terrorism, India has looked increasingly to the global community for help against Pakistan terror flourishment.
India always insisted global community to put pressure on the Pakistan Army and political leadership to desist from permitting anti-India terrorist activity on its territory.
Asking international players for help on Pakistan on one issue and expecting them to respect India's red lines on other kinds of involvement has worked more or less.
Why did Trump comment so?
1) US credit mongering as usual:
The US president claimed to have defused the India-Pakistan stand off that arose from the Pulwama attack. The US is said to have played a part in release of Abhinandan.
The US also played a role in forcing China to agree to the designation of Jaish chief Masood Azhar.
And most recently, Trump took credit for the arrest of Hafiz Saeed. Perhaps, the President of the US thinks he has already resolved much of the problem.
2) Failure in the Middle-East:  He may think there is a better chance of resolving a knotty international issue – all US presidents like this on their CVs and an isolationist Trump may not be above this.
3) Afghan Talks:  He may also believe that if his administration has succeeded in dragging the Taliban to the table in Afghanistan, so can it do the same with India and Pakistan.