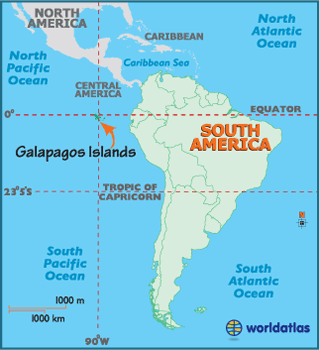 Note4students
From UPSC perspective, the following things are important:
Prelims level: Galapagos Islands
Mains level: Not Much
---
News
Tonnes of plastic waste wash up on the shores of the Galapagos Islands where microparticles end up in the stomachs of species found only in the Pacific archipelago 1,000 km west of mainland Ecuador.
Galapagos Islands
The Galapagos Islands an archipelago of volcanic islands part of the Republic of Ecuador, distributed on either side of the Equator in the Pacific Ocean surrounding the centre of the Western Hemisphere.
The island inspired Charles Darwin's Theory of evolution and was his field of study.
The Islands and their surrounding waters form the Galapagos Province of Ecuador, the Galapagos National Park, and the Galapagos Marine Reserve.
UNESCO recognised the islands as a World Heritage Site and as a biosphere reserve.
Menace of Microplastics
Sun rays and the ocean's saltwater break down bottles, bags, lids, containers and fishing nets.
The tiny plastic pieces become part of the food chain.
Those microparticles, often from waste discarded in big cities from other countries and even continents, are perhaps one of the greatest threats to the iguanas, tortoises, birds and fish of the Galapagos.
More than 90 percent of the waste gathered doesn't come from Galapagos activities, but rather from South America, Central America and even a great deal of waste with Asian branding.