Note4Students
From UPSC perspective, the following things are important :
Prelims level : Global Gender Gap Index, 2020
Mains level : Addressing gender inequalities in India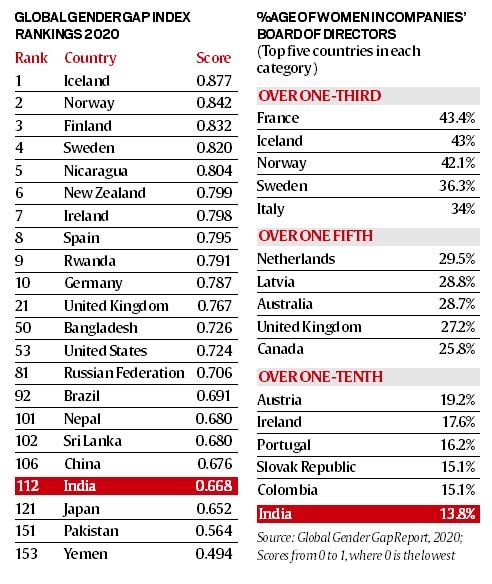 India has ranked 112th among 153 countries in the annual Global Gender Gap Index for 2020.
About the report
The report is annually published by the World Economic Forum (WEF).
It benchmarks countries on their progress towards gender parity in four dimensions: Economic Participation and Opportunity, Educational Attainment, Health and Survival and Political Empowerment.
The report aims to serve "as a compass to track progress on relative gaps between women and men on health, education, economy and politics".
Key findings
Iceland, Norway, and Finland occupy the top three spots in the Report.
Globally, the average (population-weighted) distance completed to gender parity is at 68.6%, which is an improvement since last edition.
The largest gender disparity is in political empowerment.
Only 25% of the 35,127 seats in parliaments around the world are occupied by women, and only 21% of the 3,343 ministers are women.
India's performance has deteriorated
India has slipped four places on the index to 112, behind neighbours.
India's latest position is 14 notches lower than its reading in 2006 when the WEF started measuring the gender gap.
It also ranked lower than many of its international peers, and some of its neighbours like China (106th), Sri Lanka (102nd), Nepal (101st), Brazil (92nd), Indonesia (85th) and Bangladesh (50th).
India is now ranked in the bottom-five in terms of women's health and survival and economic participation.
Positive notes for India
On a positive note, India has closed two-thirds of its overall gender gap, but the condition of women in large section of India's society is precarious and the economic gender gap has significantly widened since 2006.
India is the only country among the 153 countries studied where the economic gender gap is larger than the political one.
India ranks high on the political empowerment sub-index, largely because the country was headed by a woman for 20 of the past 50 years.
But, female political representation today is low as women make up only 14.4 per cent of Parliament (122nd rank globally) and 23 per cent of the cabinet (69th).