Note4Students
From UPSC perspective, the following things are important :
Prelims level : HS technology
Mains level : Alternatives to stubble burning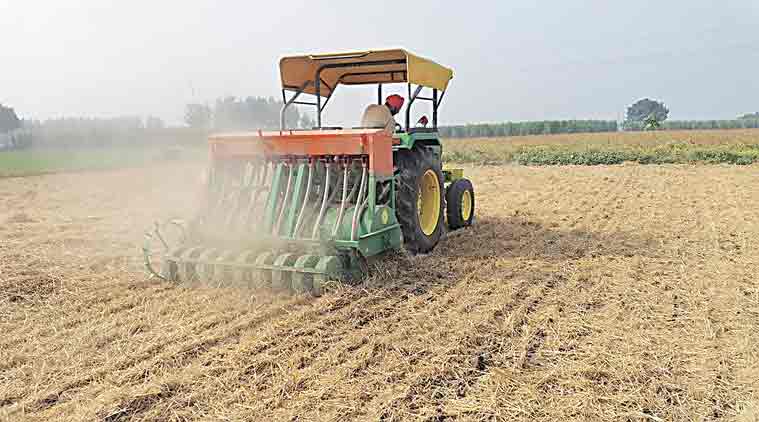 ---
Punjab CM recently said that using Happy Seeders for direct wheat sowing leads to increased productivity.
Happy Seeder (HS)
Happy Seeder (HS) or Turbo Happy Seeder (THS) is a tractor-operated machine developed by the Punjab Agri University (PAU) in collaboration with Australian Centre for International Agri Research (ACIAR).
HS is used for in-situ management of paddy stubble (straw).
While it was developed in 2002, the PAU officially recommended it to farmers in 2005-06 and it made to the markets in 2006.
Currently, it costs around Rs 1.50 to 1.60 lakh and is manufactured by different companies.
The agriculture department gives 80 per cent subsidy to farmer groups and 50 per cent subsidy to individual farmers.
Using HS
After harvesting the paddy field using a combined harvester fitted with Super-SMS (Straw Management System) equipment.
This chops and evenly spreads the stubble in the field, farmers can directly sow wheat seeds using Happy Seeder with the stubble's organic value adding to the soil.
Why use HS?
The average wheat yield a farmer gets using traditional sowing method (after burning stubble) is 19-22 quintal/acre (q/acre).
It has been found that using Happy Seeder for four years, in the first year the yield was 17 q/acre but now it's 19-22 q/acre.
Issues with HS
Many farmers had to burn the stubble because Happy Seeder doesn't work on thick bunches of straw left behind.
It is wrong to say that yield magically increases or decreases using Happy Seeder.
It mostly remains at par, with normal average yield.
Initially, farmers will face problems because after sowing with HS, fields require proper management
According to the experts, wheat yield will start increasing after the initial 2-3 years, as the stubble will add to the organic quality of the soil.