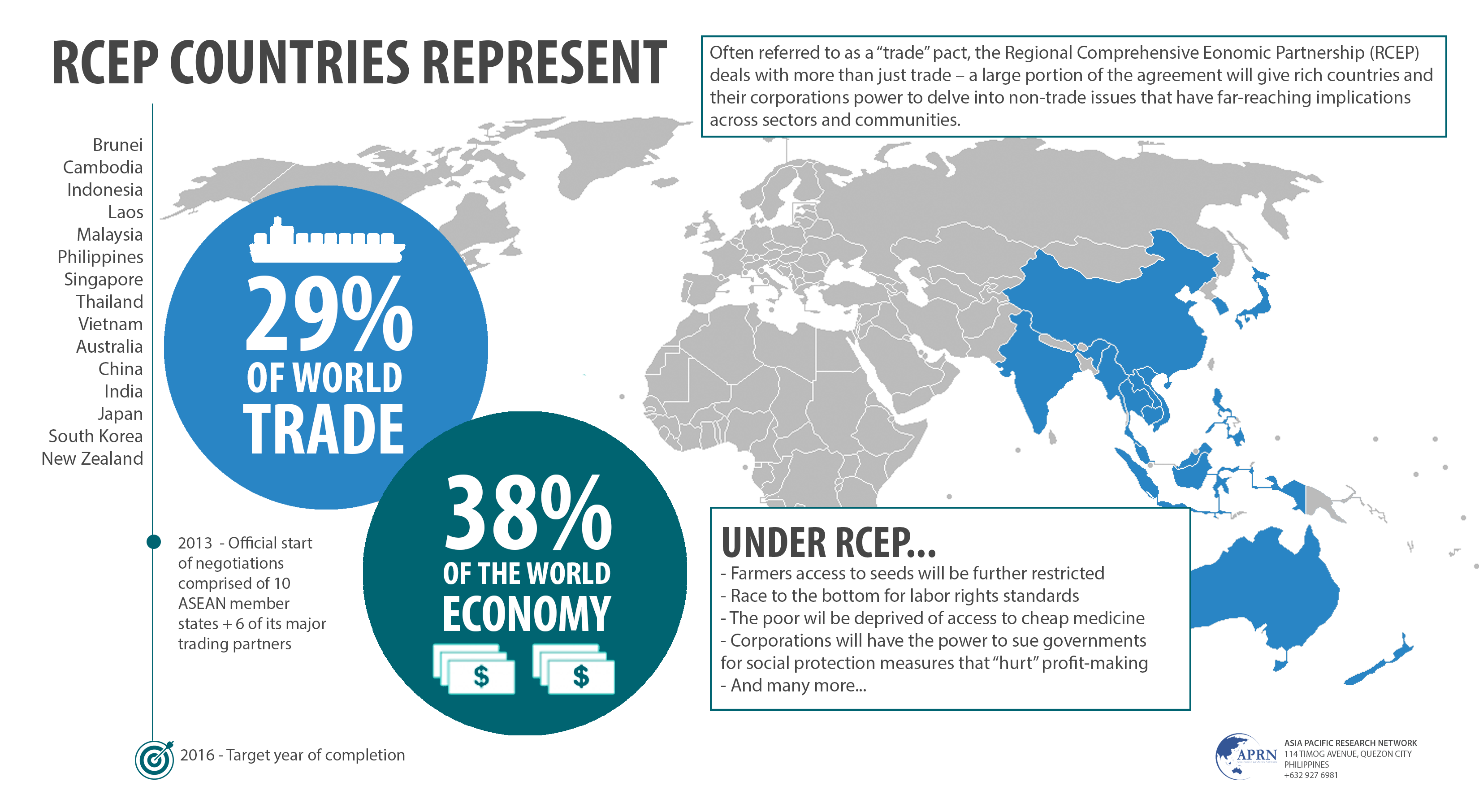 Note4students
Mains Paper 2: IR | Bilateral, regional & global groupings & agreements involving India &/or affecting India's interests
From UPSC perspective, the following things are important:
Prelims level: RCEP, ASEAN
Mains level: Dangers of easing tariff to India in spirit to maintain regional cooperation.
---
News
Context
The government has set up a four-member group of ministers (GoM) headed by trade minister to advise PM on whether to continue with or withdraw from the 16-member Regional Comprehensive Economic Partnership (RCEP) negotiations.
The GoM will find a way forward from the current deadlock.
India's concerns
ASEAN's aggressive push to dismantle tariffs on about 90-92 per cent items and reduce tariffs to below 5 per cent on an additional 7 per cent of items is worrying for India.
It would expose sensitive items, including farm and dairy goods, automobiles and steel products, to tariff cuts.
For investment too, there are contentious areas such as liberalizing based on a negative list (wherein all items are to be included except those specifically mentioned in a list) and the inclusion of an Investor State Dispute Settlement mechanism.
This could lead to India getting involved in costly legal suits filed against it by corporates.
Trade deficit
There is concern across ministries that joining the accord could severely dent local manufacturing and jobs.
China's $60-billion trade surplus with India will swell even further as it floods the market with cheap goods at zero tariffs.
India has a trade deficit with as many as 10 RCEP countries, including China, South Korea and Australia, among others.
Way Forward
It has so far maintained that a speedy and successful conclusion of the agreement would be possible only with the inclusion of a higher level of services and investment in the India-Asean trade basket.
India is not part of any major trade group and wouldn't want to get left out of this one, especially when the future of WTO is under a cloud due to global trade wars.
---
Back2Basics
Regional Comprehensive Economic Partnership (RCEP)
It is a proposed free trade agreement (FTA) between ASEAN and six Asia-Pacific states.
Members: ASEAN Members (Brunei, Cambodia, Indonesia, Laos, Malaysia, Myanmar, the Philippines, Singapore, Thailand, Vietnam) and the six Asia-Pacific states (Australia, China, India, Japan, South Korea and New Zealand).
RCEP negotiations were formally launched in November 2012 at the ASEAN Summit in Cambodia.
The FTA is scheduled and expected to be signed in November 2018 during the ASEAN Summit and Related Summit in Singapore, after the first RCEP summit was held on 14 November 2017 in Manila, Philippines.
RCEP is viewed as an alternative to the Trans-Pacific Partnership (TPP), a proposed trade agreement which includes several Asian and American nations but excludes China and India.
Importance of RCEP:
In 2017, prospective RCEP member states accounted for a population of 3.4 billion people with a total Gross Domestic Product (GDP, PPP) of $49.5 trillion
It is approximately 39 percent of the world's GDP with the combined GDPs of China and Japan making up more than half that amount.
RCEP is the world's largest economic bloc, covering nearly half of the global economy.
RCEP's share of the global economy could account for half of the estimated $0.5 quadrillion global GDP (PPP) by 2050.