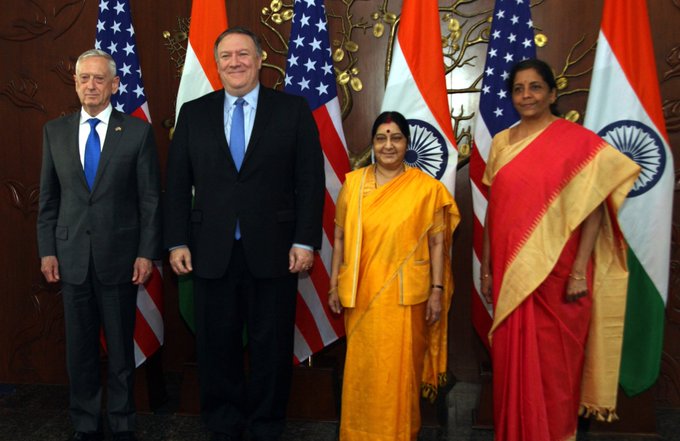 Note4Students
Mains Paper 2: IR | Bilateral, regional & global groupings & agreements involving India &/or affecting India's interests
From UPSC perspective, the following things are important:
Prelims level: 2+2 Dialogue, COMCASA, LEMOA, GSOMIA
Mains level: The newscard talks of success of the 2+2 Dialogue.
---
News
Fruitful conclusion of 2+2 Dialogue
India and the United States sealed the landmark Communications Compatibility and Security Agreement (COMCASA) that will lead to a new generation of bilateral military partnership.
Apart from the agreement both sides also called on Pakistan to stop terrorist strikes on other countries and urged for maritime freedom in the Indo-Pacific region.
What will COMCASA provide?
India has already signed two of them General Security of Military Information Agreement (GSOMIA) in 2002 and the Logistics Exchange Memorandum of Agreement (LEMOA) in 2016.
The COMCASA will allow the U.S. to transfer specialised equipment for encrypted communications for US origin platforms like C-17, C-130 and P-8I aircraft.
It comes into force immediately and is valid for 10 years.
Specific additional provisions of the Agreement
Data acquired through such systems cannot be disclosed or transferred to any person or entity without India's consent.
Both countries will implement this agreement in a manner that is consistent with the national security interests of the other.
India and the U.S. will also hold a first-ever tri service joint exercise on the east coast of India in 2019.
Role for private sector
Both sides announced their readiness to begin negotiations on an Industrial Security Annex (ISA) that would allow Indian private sector to collaborate with the U.S. defence industry.
The GSOMIA allows sharing of classified information from the U.S. government and American companies with the Indian government and defence Public Sector Undertakings (PSUs) but not with Indian private companies.
To further defence innovation, a Memorandum of Intent was signed between the U.S. Defense Innovation Unit (DIU) and the Indian Defence Innovation Organization – Innovation for Defence Excellence (DIO-iDEX).
This MoI will look into joint projects for co-production and co-development projects through the Defense Technology and Trade Initiative (DTTI).