Note4Students
From UPSC perspective, the following things are important :
Prelims level : BCB and other vaccines mentioned
Mains level : Elimination of TB in India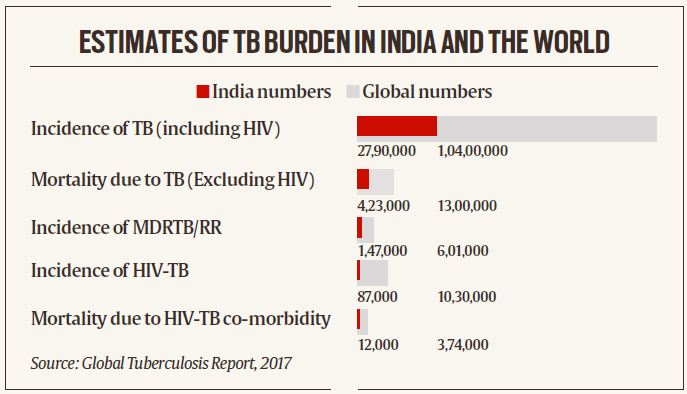 ---
The Indian Council of Medical Research (ICMR) has launched India's first large-scale trial for two new tuberculosis (TB) vaccines.
New Vaccines
There are two vaccines being tested in the latest trial:
Immuvac (also known as mycobacterium indicus pranii or MIP), which is manufactured by Cadila Pharmaceuticals in Ahmedabad, and
VPM1002 manufactured by Serum Institute of India in Pune.
Why need new vaccines?
Scientists at the ICMR have felt a critical need for new TB vaccines that are more effective than the Bacille Calmette-Guerin (BCG) vaccine.
The BCG vaccine is used in the routine Expanded Programme of Immunisation (EPI) in countries across the world. It is generally given at birth or in the first year.
The vaccine is over 100 years old and, while it has been partially effective in protecting infants and young children, particularly from the most severe forms of TB.
It provides poor protection against pulmonary disease in adolescents and adults.
It is for these reasons a need was felt to develop more effective preventive TB vaccines.
Rise of MDR TB
The new vaccines that are being put through the trials offer a chance to contain the accelerating spread of multi-drug resistant TB.
Treating TB requires a multi-drug course of treatment lasting six months; longer still for treating drug-resistant TB.
Treatment failure and recurrence can have devastating consequences.
Incidence of TB in India
India contributes to 27 per cent of the global TB burden; the highest share globally. That is why, in 2017, the central government had committed itself to eliminating TB by 2025.
As per the 2018 annual report of the Central TB division of Ministry of Health, the incidence of TB was nearly 2.8 million annually, and the incidence of multidrug-resistant TB was 1,47,000 per year.
The total number of deaths because of TB (excluding HIV) was 4,23,000, and the incidence of HIV-TB was 87,000 per year.