Note4Students
From UPSC perspective, the following things are important :
Prelims level : MK 45 gun system
Mains level : India-US defence cooperation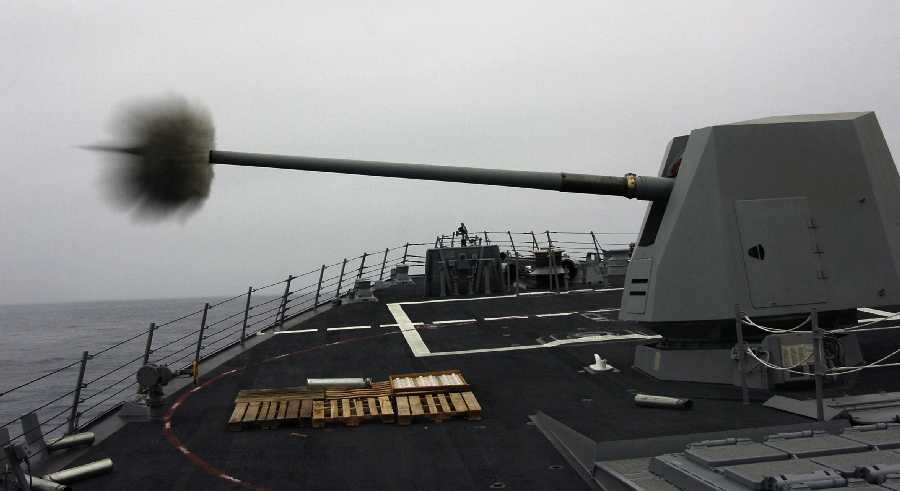 ---
The US State Department has approved the sale of naval guns and other equipment worth $1 billion to India for use against warships, anti-aircraft and shore bombardment.
The sale includes 13 MK 45 5 inch/62 caliber (MOD 4) naval guns and some other equipment that will be manufactured by BAE Systems Land and Armaments.
MK 45 gun system
The MK 45 is a fully automatic naval gun system that is installed on ships and provides a Naval Surface Fire Support (NSFS) range of more than 20 nautical miles (36 km) along with improved propelling charge.
This system of guns is currently in use by the US Navy on their fleet of Ticonderoga class cruisers and Arleigh Burke class destroyers.
MK 45 is an upgraded version with a 62 caliber barrel, strengthened gun and mount subsystems, advanced control system enhancements, greater range and firepower, a reduced signature and low maintenance gun shield.
MK 45 MOD 4 gun
It is a light-weight version of the MK 42 5 inch/54 caliber gun mount meant to support expeditionary operations and engage surface and air targets.
The MOD 4 configuration gun mount is believed to boost the firing range by over 50 per cent, increasing the speed and range of munitions.
The principal contractor of the guns for this deal is Minneapolis-based BAE Systems Land and Armaments with a gun manufacturing unit in Louisville, Kentucky.
It is meant for both naval gunfire support and to destroy any hostile anti-ship weapons and air defence systems.
Other countries that have been sold the MOD 4 naval guns are Japan, Australia and South Korea.
Benefits
The MK 45 Gun System will provide the capability to conduct anti-surface warfare and anti-air defence missions while enhancing interoperability with US and other allied forces.
India will use the enhanced capability as a deterrent to regional threats and to strengthen its homeland defence.