Note4Students
From UPSC perspective, the following things are important :
Prelims level : Mumbai's Coastal Road Project, EIA
Mains level : Urbanization at the cost of environment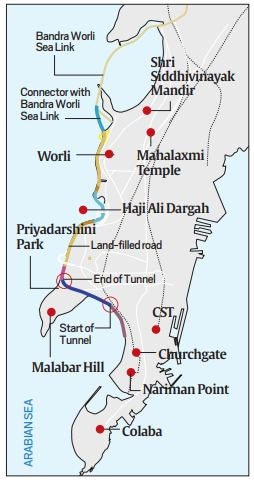 The Supreme Court stayed a Bombay High Court order that had quashed Coastal Regulation Zone clearance granted to the southern part of Mumbai's coastal road project.
Mumbai's Coastal Road project
The Coastal Road is an under-construction 8-lane, 29.2-km long freeway that would run along Mumbai's western coastline connecting Marine Lines in the south to Kandivali in the north.
The Coastal Road is projected to be used by 130,000 vehicles daily and is expected to reduce travel time between South Mumbai and the Western Suburbs from 2 hours to 40 minutes.
The estimated cost of the project is ₹12,000 crore (US$1.7 billion).
What is the dispute?
Environmentalists, activists and fishermen opposed the project.
Their main contention was that the BMC is implementing the project with faulty and 'illegal' green clearances accorded in May 2017 by the MoEFCC.
They have claimed the project lacks a mandatory prior environmental clearance under the Environmental Impact Assessment (EIA) notification of 2006.
Activists had demanded that a biodiversity study of the Mumbai coast is also required before going ahead.
They also called a National Institute of Oceanography (NIO) report flawed as it relied on only 14 days' pre-monsoon data. An EIA study requires impact in all four seasons to be studied, they contended.
Fishermen also claimed that the reclamation will destroy shallow water fishing and increase the turbidity of water, and that the narrow gaps between pillars will hinder movement of fishing boats.