Note4Students
From UPSC perspective, the following things are important :
Prelims level : NAVIC
Mains level : Utility of NAVIC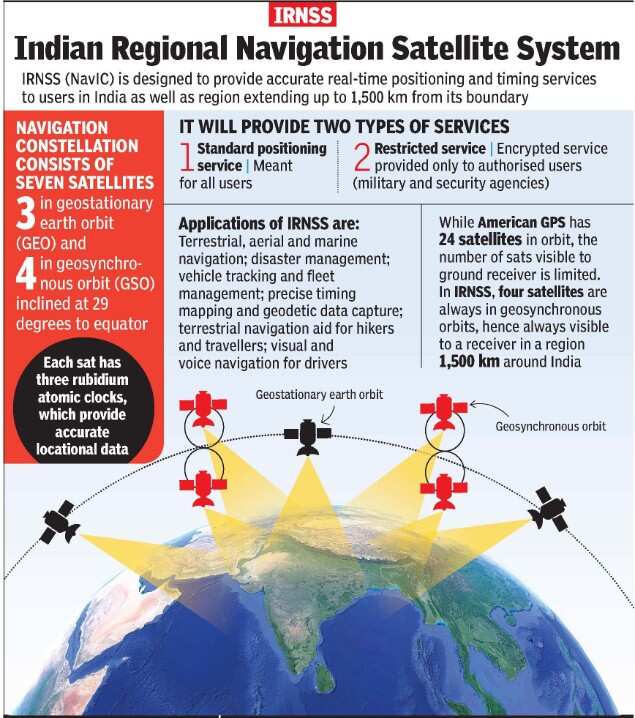 ---
The ISRO and its older commercial arm Antrix Corporation Ltd. are poised to commercialise India's regional navigation satellite system, NavIC.
Antrix recently floated two separate tenders to identify industries that can develop dedicated NavIC-based hardware and systems.
NavIC (Navigation in Indian Constellation)
It is the Indian system of seven satellites that is aimed at telling the business and individual users where they are, or how their products and services are moving.
The indigenous positioning or location-based service (LBS) works just like the established and popular U.S. Global Positioning System or GPS but within a 1,500-km radius over the sub-continent.
It covers India and a region extending 1,500 km around it, with plans for further extension.
NAVIC will provide two levels of service, the "standard positioning service", which will be open for civilian use, and a "restricted service" (an encrypted one) for authorised users (including the military).
NAVIC is planned to become available for civilian use in the first half of 2020
Early users
The early set of commercial NavIC users would be potentially transporters of resources such as mined ore, coal and sand in various States.
Several transporters currently use GPS-based systems.
Positive developments
Qualcomm Technologies, Inc., a leading producer of semiconductor chips, had developed and tested NavIC-friendly chipsets across its user bases and that it would add NavIC to them.
Apart from GPS, its chips can work with the global navigation satellite systems of Europe (Galileo), Russia (GLONASS) and China (Beidou.)
ISRO said this support would be available for original equipment manufacturers (OEMs) from November 2019.
It expects the indigenous system to 'enhance' the use of NavIC on mobile, automotive and Internet of Things (IoT) devices.
3GPP project
The important positive for NavIC was the certification of the Indian system by the 3GPP (The 3rd Generation Partnership Project), a global body for coordinating mobile telephony standards.
The specifications will be available in March 2020 and the Telecommunications Standards Development Society, India (TSDSI) has said it would adopt them as a national standard.
The implication is that 4G and 5G devices with NavIC capability can use assisted-NavIC solution in place of, or in addition to, other constellations.