---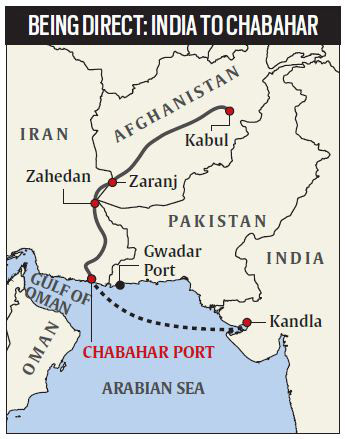 Note4students
Mains Paper 2 : Bilateral, regional and global groupings and agreements involving India and/or affecting India's interests
Prelims level: INSTC; Chabahar Port
Mains level: Significance of Chabahar Port for India and Steps Taken in this regard.
---
Context
Chabahar Port, with first phase inaugurated 

on Sunday

, has been jointly developed by India, Iran and Afghanistan.
India, Iran and Afghanistan are committed to developing the port to handle a cargo of 80 million tonnes, present capacity is just 2.5 million tonnes.
India sent its first consignment of 1.1 lakh tonnes of wheat for Afghanistan through the Chabahar Port on 

October 29

 this year.
Chabahar, which is located 72 kilometres west of Pakistan's Gwadar port, holds immense strategic and economic significance for India.
International North South Transport Corridor (INSTC)
To make Chabahar a commercially and strategically viable option, Chabahar project needs to be integrated with INSTC.
India has constructed a 218 km-long (140 mile-long) road from Delaram in western Afghanistan to Zaranj on the Iran-Afghan border.
Strategic Significance
Viable gateway to Afghanistan and Central Asia.
Routes beyond the existing ones would provide a major impetus to Afghanistan's economic reconstruction efforts.
Many in Delhi view this as one of India's projects to counter China's BRI.
Economic Significance
The Chabahar route plus INSTC could boost trade to a total of US$ 170 billion from India to Eurasia
Challenges
The new US administration's attitude towards Iran has complicated the matters.
New Delhi has been cautious.
---
Back2Basics
International North South Transport Corridor (INSTC)
1.Initiated in 2000 by Russia, India and Iran, it is a multi-modal transportation route
3. It links the Indian Ocean and the Persian Gulf to the Caspian Sea via Iran, and onward to northern Europe via St Petersburg in Russia.