---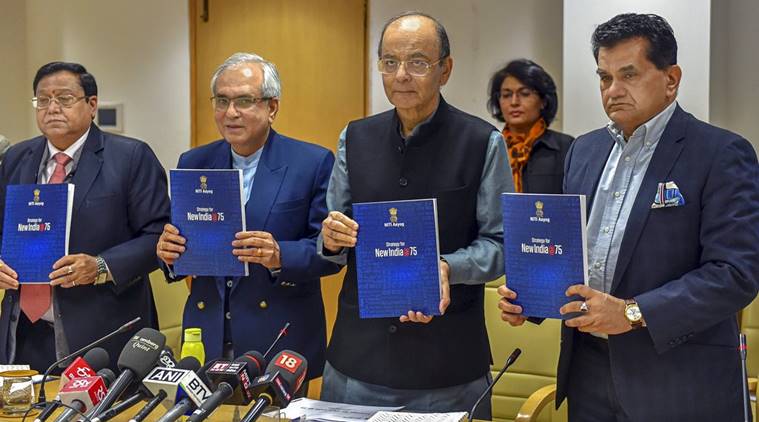 Note4students
Mains Paper 3: Economy | Indian Economy Issues relating to planning
From the UPSC perspective, the following things are important:
Prelims level: Not much
Mains level: Role of planning in an economy and need of bringing planning back in vogue
---
News
The NITI Aayog has unveiled its comprehensive national Strategy for New India, which defines clear objectives for 2022-23.
Strategy for New India @ 75
It is a detailed exposition across forty-one crucial areas that recognize the progress already made, identifies binding constraints, and suggests the way forward for achieving the clearly stated objectives.
It is an attempt to bring innovation, technology, enterprise and efficient management together, at the core of policy formulation and implementation.
It will encourage discussion and debate, and invite feedback for further refining our policy approach.
Four Sections Discussed
The forty-one chapters in the document have been dis-aggregated under four sections: Drivers, Infrastructure, Inclusion and Governance.
The first section on Drivers focuses on the engines of economic performance with chapters on growth and employment, doubling of farmers' incomes; upgrading the science, technology and innovation eco-system; and promoting sunrise sectors like fintech and tourism.
The second section on Infrastructure deals with the physical foundations of growth which are crucial to enhancing the competitiveness of Indian business as also ensuring the citizens' ease of living.
The third section on Inclusion deals with the urgent task of investing in the capabilities of all of India's citizens. The three themes in this section revolve around the dimensions of health, education and mainstreaming of traditionally marginalized sections of the population.
The final section on Governance delves deep into how the governance structures can be streamlined and processes optimized to achieve better developmental outcomes.