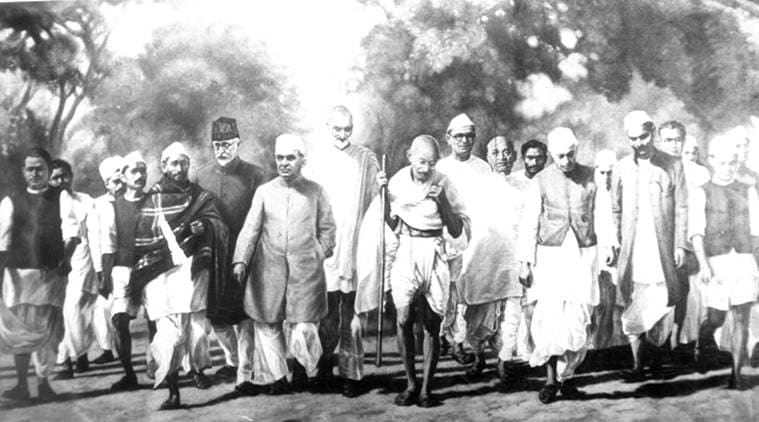 Note4students
Mains Paper 1: Freedom Struggle | its various stages and important contributors /contributions from different parts of the country
From the UPSC perspective, the following things are important:
Prelims level: Dandi March
Mains level: Contribution of Sardar Patel
---
News
On occasion of the 89th anniversary of the iconic Dandi March, PM Modi published a blog titled 'When a handful of salt shook an empire' paying tributes to the contributions made by Sardar Vallabhbhai Patel to the movement.
Dandi March
On March 12, 1930, Gandhi along with 80 satyagrahis started out from Sabarmati Ashram and marched over 390 km to reach the coastal village of Dandi.
The march, a protest against the coercive salt tax imposed by the British, was the most significant organised challenge to British authority after the Non-Cooperation Movement of the early 1920s.
The march sparked a series of acts of civil disobedience across India against the salt laws.
Over 60,000 people were arrested across the country. Soon after, the Congress planned a Satyagraha at the Dharasana Salt Works, 25 miles south of Dandi.
However, the plan was shelved after Gandhi was arrested days before the beginning of the movement.
Role of Sardar Patel
Sardar Patel indeed play a very significant role in mobilizing people for the Dandi march.
However, when Gandhi proposed the idea of a salt march, the working committee of the Congress was not convinced of the impact it would have.
However, once the decision was taken, Patel threw his entire weight behind it and gave the movement its initial momentum.
It is believed Patel chose Dandi, and even planned the route Gandhi would take.
As Patel went about mobilizing people for the march, the district administration of Surat realized it was necessary to get him out of the way.
Consequently, on March 7, five days before the march was scheduled, Patel was arrested.