Note4Students
From UPSC perspective, the following things are important :
Prelims level : Synthetic Specch
Mains level : Read the attached story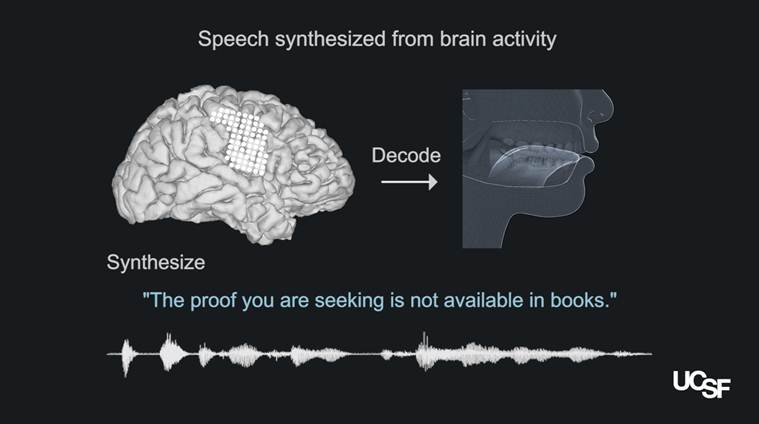 Scientists have created a virtual vocal tract – completes with lips, jaw and tongue – that can generate natural-sounding synthetic speech by using brain signals.
The brain-machine interface is created by neuroscientists at University of California, San Francisco in the US.
Synthetic Speech
The apparatus comprised:
two "neural network" machine learning algorithms:
a decoder that transforms brain activity patterns produced during speech into movements of the virtual vocal tract, and
a synthesizer that converts these vocal tract movements into a synthetic approximation of the participant's voice.
The algorithms produced sentences that were understandable to hundreds of human listeners in crowdsourced transcription tests.
How it works
Patients are implanted with one or two electrode arrays: stamp-size pads, containing hundreds of tiny electrodes that were placed on the surface of the brain.
As each participant recited hundreds of sentences, the electrodes recorded the firing patterns of neurons in the motor cortex.
The researchers associated those patterns with the subtle movements of the patient's lips, tongue, larynx and jaw that occur during natural speech.
The team then translated those movements into spoken sentences.Native English speakers were asked to listen to the sentences to test the fluency of the virtual voices.
As much as 70 percent of what was spoken by the virtual system was intelligible, the study found.
Utility of the project
The interface could one day restore the voices of people who have lost the ability to speak due to paralysis and other forms of neurological damage.
Many people with epilepsy do poorly on medication and opt to undergo brain surgery.
Stroke, traumatic brain injury, and neurodegenerative diseases such as Parkinson's disease, multiple sclerosis, and amyotrophic lateral sclerosis often result in an irreversible loss of the ability to speak.
We can hope that individuals with speech impairments will regain the ability to freely speak their minds and reconnect with the world around them coming days.
Overcoming challenges
The biggest clinical challenge may be finding suitable patients: strokes that disable a person's speech often also damage or wipe out the areas of the brain that support speech articulation.
Still, the field of brain-machine interface technology, as it is known, is advancing rapidly, with teams around the world adding refinements that might be tailored to specific injuries.
Before operating, doctors must first locate the "hot spot" in each person's brain where the seizures originate which may take weeks.