Note4Students
From UPSC perspective, the following things are important :
Prelims level : Start-up India scheme
Mains level : Startup ecosystem in India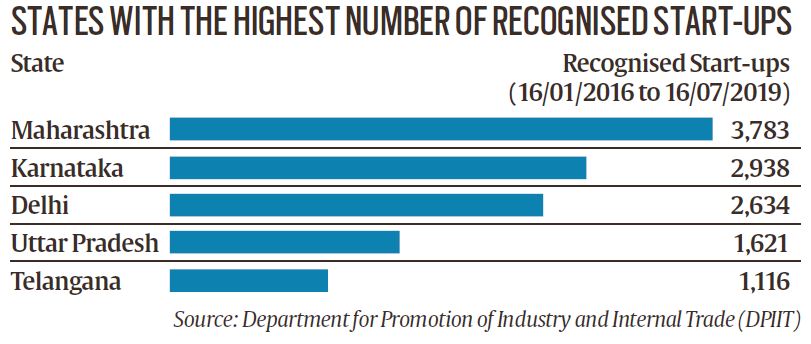 ---
Maharashtra, Karnataka, and Delhi have seen the highest number of start-ups recognised under the government's flagship Start-Up India Scheme in the period from 2016 to 2019.
These three states also attracted the highest investments from Alternative Investment Funds (AIFs) in start-ups.
About Start-Up India Scheme
Startup India Scheme is an initiative of the Indian government, the primary objective of which is the promotion of startups, generation of employment, and wealth creation.
It was launched on the 16th of January, 2016.
A startup defined as an entity that is headquartered in India, which was opened less than 10 years ago, and has an annual turnover less than ₹100 crore (US$14 million).
The action plan of this initiative is based on the following three pillars:
Simplification and Handholding
Funding Support and Incentives
Industry-Academia Partnership and Incubation
An additional area of focus is to discard restrictive States Government policies within this domain, such as License Raj, Land Permissions, Foreign Investment Proposals, and Environmental Clearances.
It was organized by The Department for promotion of industry and internal trade (DPI&IT).
---
Back2Basics
Alternative Investment Funds (AIFs)
An alternative investment is a financial asset that does not fall into one of the conventional investment categories. Conventional categories include stocks, bonds, and cash.
Most alternative investment assets are held by institutional investors or accredited, high-net-worth individuals because of their complex nature, lack of regulation, and degree of risk.
Alternative investments include private equity or venture capital, hedge funds, managed futures, art and antiques, commodities, and derivatives contracts.
Real estate is also often classified as an alternative investment.