Note4Students
From UPSC perspective, the following things are important :
Prelims level : State of the World's Children Report 2019
Mains level : Read the attached story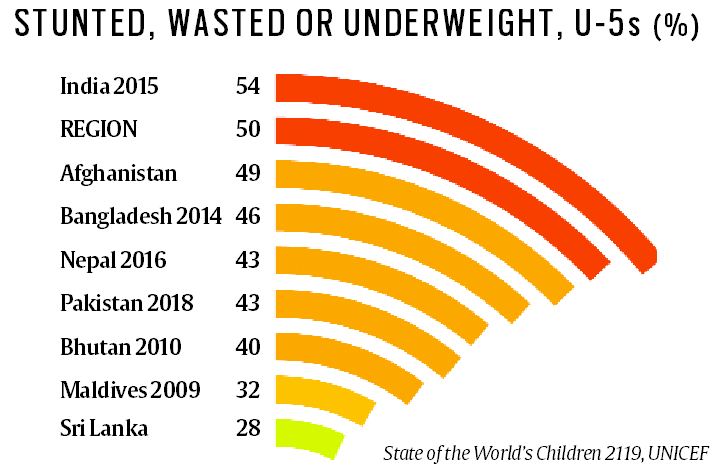 ---
UNICEF released its State of the World's Children report for 2019.
Highlights of the report
The UNICEF report found that one in three children under the age of five years
Around 200 million children worldwide — are either undernourished or overweight.
Children in India
In India, every second child is affected by some form of malnutrition.
The report said 35% of Indian children suffer from stunting due to lack of nutrition, 17% suffer from wasting, 33% are underweight and 2% are overweight.
According to government figures, stunting and wasting among children in the country has reduced by 3.7 per cent and the number of underweight children have reduced by 2.3 per cent from 2016 to 2018.
Other details
One in five children under age 5 has vitamin A deficiency, which is a severe health problem in 20 states.
Every second woman in the country is anaemic, as are 40.5% children.
One in ten children are pre-diabetic.
Indian children are being diagnosed with adult diseases such as hypertension, chronic kidney disease and diabetes.
India's among its neighbors
Among countries in South Asia, India fares the worst (54%) on prevalence of children under five who are either stunted, wasted or overweight.
Afghanistan and Bangladesh follow at 49% and 46%, respectively. Sri Lanka and the Maldives are the better performing countries in the region, at 28% and 32%, respectively.
India also has the highest burden of deaths among children under five per year, with over 8 lakh deaths in 2018.
It is followed by Nigeria, Pakistan and the Democratic Republic of Congo, at 8.6 lakh, 4.09 lakh and 2.96 lakh deaths per year, respectively.