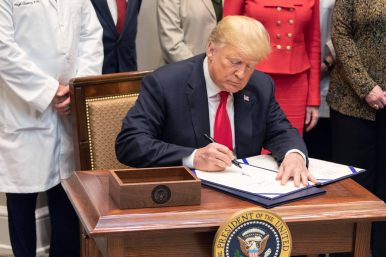 Note4students
Mains Paper 2: IR | Bilateral, regional & global groupings & agreements involving India &/or affecting India's interests
From UPSC perspective, the following things are important:
Prelims level: ARIA Act
Mains level:  US influence in Asia-Pacific
---
News
US President Trump has signed an Act designed to counter the encroaching influence and growing threat from China and to reinvigorate US leadership in the Indo-Pacific region.
Asia Reassurance Initiative Act (ARIA)
The ARIA aims to establish a multifaceted U.S. strategy to increase U.S. security, economic interests, and values in the Indo-Pacific region.
ARIA draws attention to U.S. relations with China, India, the ten member states of the Association of Southeast Asian Nations (ASEAN), and Northeast Asian allies Japan and South Korea.
It will authorize $1.5 billion in spending for a range of U.S. programs in East and Southeast Asia and develop a long-term strategic vision and policy for the Indo-Pacific region.
The ARIA includes multiple provisions of Trump which have identified the Indo-Pacific as a strategic region of particular priority.
Regional Perspective
North Korea: The act aims to justify the termination of U.S. support for any UNSC resolutions sanctioning North Korea or the lifting of any unilateral U.S. sanctions on North Korea.
Taiwan: The ARIA encourages the travel of high level US officials to Taiwan, in accordance with the Taiwan Travel Act which was made law in 2018.
South China Sea: ARIA calls on the US to support the ASEAN nations as they adopt a code of conduct in the South China Sea with China.
Impact on ties with India
ARIA allocates a budget of $1.5 billion over a five-year period to enhance cooperation with America's strategic regional allies in the region.
Stressing the designation of India as a major defense partner, which is unique to India, the new law elevates defense trade and technology cooperation.
The new law cites China's illegal construction and militarization of artificial features in the South China Sea and coercive economic practices.
Other perspectives
The Act notes the increased presence throughout Southeast Asia of the Islamic State and other international terrorist organizations that threaten the US.
The law also refers to Quadrilateral Security Dialogue between US, Australia, India, and Japan.
It however clarifies that such a dialogue is intended to augment, rather than to replace, current mechanisms.