Note4Students
From UPSC perspective, the following things are important :
Prelims level : UNSC 1267
Mains level : Blacklisting of Azhar and its implications for India
Context
Jaish-e-Mohammad chief Masood Azhar was listed as a designated terrorist by the UN Security Council 1267 Committee.
It would mean a travel ban, arms embargo and asset freeze on Azhar.
The listing is a victory for India in a decade-old diplomatic battle waged primarily by it and supported by its friends at the UNSC.
Paradigm shift by China
Since China had blocked it four times at the UNSC Resolution 1267 Sanctions committee, US felt that this would put China in an awkward position.
It would have to publicly defend the veto — and, in effect, a terrorist.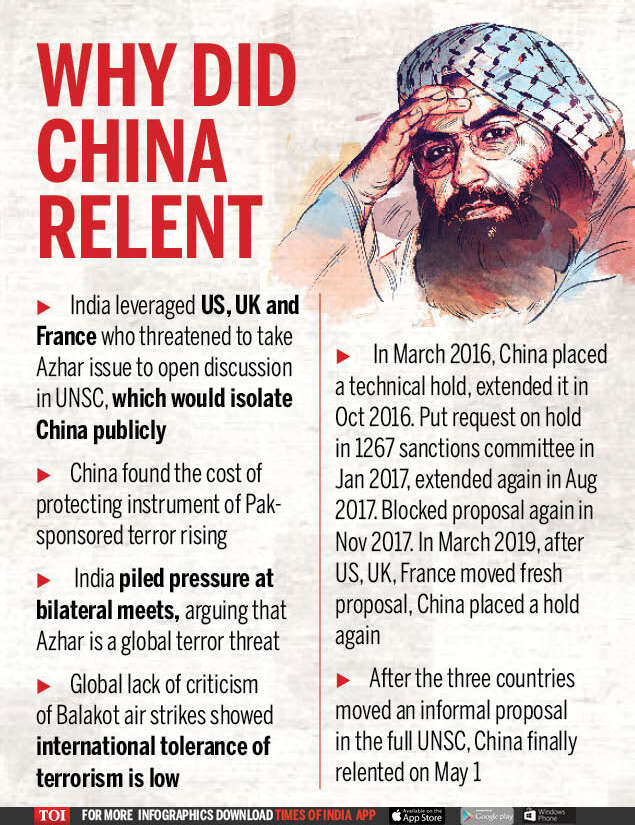 Image source: TOI
Speculating Chinese intentions
China's decision appears to be a well-rounded exercise aimed at encouraging India to bond with Eurasia instead of the Indo-Pacific.
It has taken its "all weather" ally Pakistan on board before taking the decision.
China's move followed Russia's decision last month to honour Mr. Modi with 'Order of the Holy Apostle Andrew the First,' –Russia's highest civilian award, in the midst of the election campaign.
Both China and Russia want New Delhi to consolidate its ties with Eurasia on Mr. Modi's watch, rather than allow India to drift further in the direction of the U.S.-led Indo-Pacific strategy.
India is already a member of the Eurasia-centred Shanghai Cooperation Organisation (SCO).
Again a bliss for Pakistan
Beijing had decided to announce listing after the Belt and Road Forum (BRF), so as not to embarrass visiting Pakistan PM Imran Khan, who was guest at the conclave.
Pakistan may not be averse to Azhar's designation, as it could help avoid being "blacklisted" by the FATF.
Otherwise it could advance Islamabad's economic isolation.