UPSC Current Affairs program trusted by Toppers | Special batch for UPSC 2023 aspirants
100+ rankers vouch for the efficacy of Samachar Manthan, a result-oriented Current Affairs program
What is Samachar Manthan?
Samachar Manthan is CivilsDaily's current affairs program designed to help you develop a solid command of your newspaper reading and current affairs analyzing skills. We are also going to focus on imparting skills required to utilize current affairs. Since it builds your core, it is important for both Prelims and Mains & Interviews also.
This is a special batch for UPSC 2023 aspirants. The focus would be on covering the existing backlog from June 2022 onwards till date along with current issues of Samachar Manthan.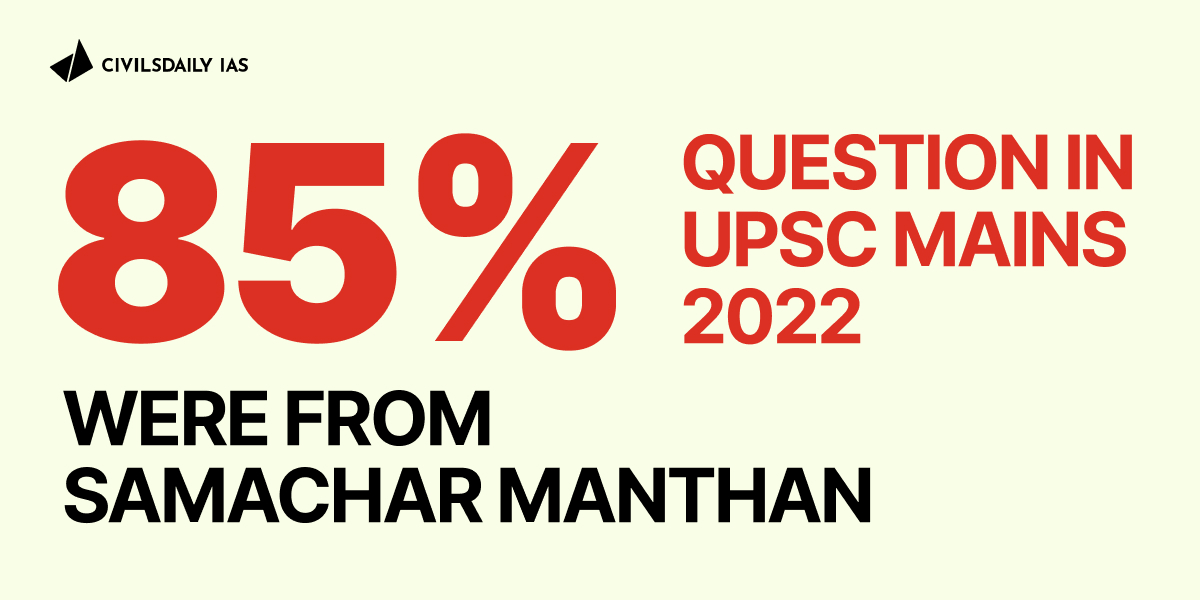 Program inclusion
Weekly 5+ hours live video and offline lectures
High-quality Notes and reference material
Backlog coverage of Current Affairs from June 2022 till date
Membership to Samachar Manthan Habitat club – doubts,  discussion, and mentorship session.
Weekly Current Affairs-based Mains Test (10 Questions) and Evaluation
Current Affairs Monthly Prelims Test package
Marathon Revision sessions on Habitat before Prelims and Mains
Frequent Google meets Sessions to check on Student's Preparation status
Micro notes to help you make your notes.
Key differentiators
Sajal sir's Discussion in Samachar Manthan Habitat group
Sample notes and tests
Samachar Manthan Weekly Notes (Click to download)
Samachar Manthan Micro-notes (click to download)
Evaluated answer sheet – 1 (Click to download)
Evaluated answer sheet – 2 (Click to download)
This is what our students have to say about Samachar Manthan and Sajal Sir & other faculties.
curriculum
Week 53/ Week 01 (22 May-28 May 2023)

Week 31 (19 December-25 December 2022)

Week 32 (26 December-01 January 2023)

Week 33 (02 January-08 January 2023)

Week 34 (09 January-15 January 2023)

Week 35 (16 January-22 January 2023)

Week 36 (23 January-29 January 2023)

Week 37 (30 January-05 February 2023)

Week 38 (06 February-12 February 2023)

Week 39 (13 February-19 February 2023)

Economic Survey 2023-2024

Week 40 (20 February-26 February 2023)

Week 41 (27 February-05 March 2023)

Week 42 (06 March-12 March 2023)

Week 43 (13 March-19 March 2023)

Week 44 (20 March-26 March 2023)

Week 45 (27 March-02 April 2023)

Week 46 (03 April-09 April 2023)

Week 47 (10 April-16 April 2023)

Week 48 (17 April-23 April 2023)

Week 49 (24 April-30 April 2023)

Week 50 (01 May-07 May 2023)

Week 51 (07 May-14 May 2023)

Week 52 (15 May-21 May 2023)

Week 53/Week 01 (22 May-28 May 2023)
instructor