Note4Students
From UPSC perspective, the following things are important :
Prelims level : Not Much
Mains level : Disinvestment processes in India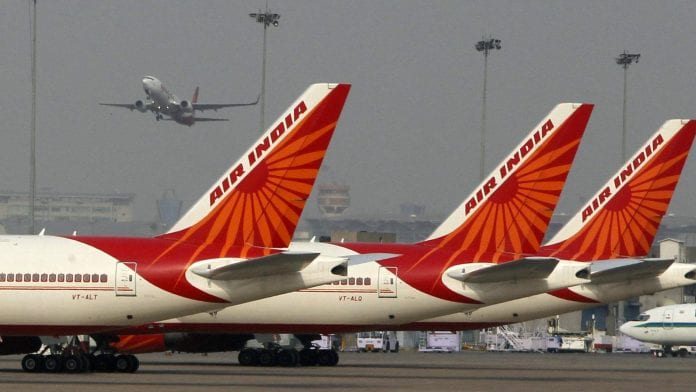 The government has kicked off the complete disinvestment process of Air India for the second time after it failed to receive a single bid in the first attempt back in 2018.
100% stake sale
Most significantly, the government will offload 100% of its stake in Air India, compared with 76% put on the block last time.
The government holding even a minor stake in the airline post disinvestment was seen as a huge negative for any potential buyers.
The buyer will have to take on Rs 23,286 crore of debt out of a total Rs 60,074 crore.
Compared with this, in the last attempt, a potential buyer would have to take on Rs 33,392 crore of debt and current liabilities.
The amount of debt being bundled with the airline in this attempt is towards the aircraft that are being sold off along with the carrier as part of the transaction.
The working capital and other non-aircraft debt will be retained by the government.
Air India's assets
The new owner will be taking on a fleet of 121 aircraft in Air India's fleet and 25 planes in Air India Express' fleet.
These exclude the four Boeing 747-400 jumbojet aircraft that the airline plans to transfer to its subsidiary Alliance Air, which is not a part of the current transaction.
However, like the last attempt, the properties currently in use by Air India, including the Nariman Point building and the company's headquarters near Connaught Place in New Delhi will be retained by the government.
Will the new terms attract investors?
Air India has a 50.64% market share in international traffic among Indian carriers.
The government is hopeful of attracting investors with the new sale criteria, coupled with the main benefits of the airline, which are prime slots in capacity-constrained airports across the world.
However, any potential investor is also expected to look at the size of the airline's operations with reference to what those operations generate.
For example, both Air India and Singapore Airlines operate with a fleet of 121 aircraft, but in 2018-19 Air India posted a net loss of Rs 8,556 crore, whereas Singapore Airlines reported a net profit of Singapore $ 779.1 million (approx Rs 4,100 crore).
What will the new investor get?
The most attractive proposition in acquiring Air India is the slots and landing rights that it holds at airports such at Delhi, Mumbai, London, New York, Chicago, Paris, etc.
These could be helpful both to airlines looking to expand into long-haul international operations, and to entities looking to set up global operations from scratch.
Air India currently operates to 56 Indian cities and 42 international destinations.
The new investor also gets hold of the ground-handling firm AI-SATS, which offers end-to-end ground handling services such as passenger and baggage handling, ramp handling, aircraft interior cleaning etc. at Bengaluru, Delhi, Hyderabad, Mangaluru and Thiruvananthapuram airports.
This would provide the investor with an ancillary services firm with captive use.
Loss makers in AI
Several of Air India's international and domestic routes are profit-generating, while a number of them are loss-making or witness low load factors.
This is a legacy problem that the airline comes with for the new promoter.
Additionally, while the airline comes with 121 aircraft primed as domestic and international workhorses, 18 of them are grounded for lack of funds to make them airworthy.
How will consumers and employees be impacted?
Consumers
If and when Air India is taken over by a private entity or consortium, experts believe the first move could be pruning of operations to ensure the airline inches closer to profitability.
This could cause Air India to cease operations on certain loss-making domestic and international routes — leading to a rise in fares.
It is believed that Air India's continuous loss-making operations have skewed the market, wherein private companies have to play ball even when fares are artificially low.
Cutting certain routes could also impact consumers in terms of the unique offerings by Air India, such as higher baggage allowance, etc.
Employees of AI
Air India's bloated staff strength was flagged by potential investors in the last disinvestment attempt.
The airline has 17,984 employees, of which 9,617 are permanent staff.
Whether the employees will be retained by the new investor is unclear.
The government is expected to provide more clarity on conditions for retaining staff in the request-for-proposal stage, which will come after expressions of interest are received.
Get an IAS/IPS ranker as your 1: 1 personal mentor for UPSC 2024
Attend Now