Note4Students
From UPSC perspective, the following things are important :
Prelims level : Bhuvan Panchayat V 3.0, SISDP Project
Mains level : Utility of geospatial data in governance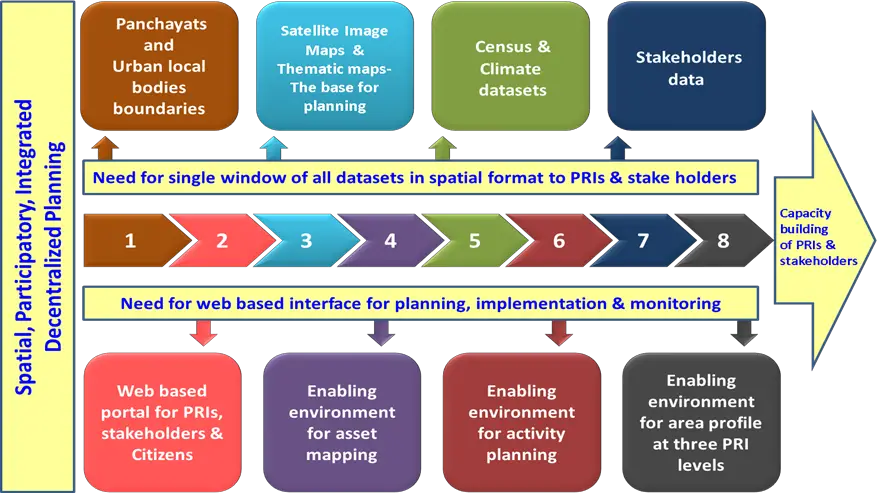 The Bhuvan Panchayat V 3.0 web portal was recently launched.
Bhuvan Panchayat Version 3.0
For better planning and monitoring of government projects, the ISRO has launched the Bhuvan Panchayat web portal's version 3.0.
For the first time, a thematic data base on a 1:1000 scale for the entire country is available with integrated high resolution satellite data for planning.
In the project that will last for at least two years, ISRO will collaborate with the gram panchayat members and stakeholders to understand their data requirements.
The third version of the portal will provide database visualisation and services for the benefit of panchayat members, among others.
The project is meant to provide geo-spatial services to aid gram panchayat development planning process of the Ministry of Panchayati Raj.
The targeted audiences for this portal are Public, PRIs and different stakeholders belonging to the gram panchayats.
About SISDP Project
Space based Information Support for Decentralised Planning at Panchyayat level (SIS-DP) is a national initiative of preparing basic spatial layers useful in planning process for local self governance.
ISRO launched SISDP project to assist Gram Panchayats at grassroot level with basic planning inputs derived from satellite data for preparing developmental plans, its implementation and monitoring the activities.
The National Remote Sensing Centre (NRSC) is the lead centre to execute the project in collaboration with various State Remote Sensing Centres.
SISDP phase I Project was successfully concluded in the year 2016-17.
Under Phase II, this project shall be implemented shortly with a enhanced scope of updating geodatabase with latest high resolution remote sensing data and spatial data analytics.
For the first time, thematic database on 1:10,000 scale for the entire country is available with high integrated High Resolution satellite data for planning.
Get an IAS/IPS ranker as your 1: 1 personal mentor for UPSC 2024
Attend Now