Note4Students
From UPSC perspective, the following things are important :
Prelims level : About the Project, Indus Water Treaty
Mains level : Indus Water Treaty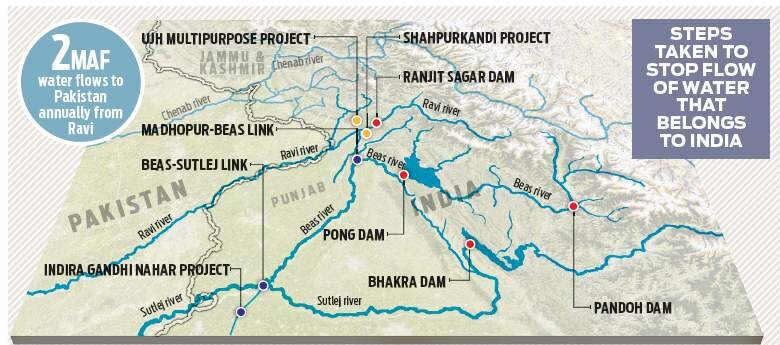 The Union government has approved a nearly ₹6,000-crore multi-purpose project for the Ujh multi-purpose project.
Ujh Multi-purpose Project
The project will store around 781 million cubic meters of water of river Ujh, a tributary of river Ravi.
It aims to provide uninterrupted water for irrigation to farmers in J&K's Kathua district and to produce power.
After completion of the project, utilization of waters of eastern rivers allotted to India as per the Indus Water Treaty would be enhanced by utilising the flow that presently goes across the border to Pakistan.
---
Back2Basics
Indus Waters Treaty, 1960
The IWT is a water-distribution treaty between India and Pakistan, brokered by the World Bank signed in Karachi in 1960.
According to this agreement, control over the water flowing in three "eastern" rivers of India — the Beas, the Ravi and the Sutlej was given to India
The control over the water flowing in three "western" rivers of India — the Indus, the Chenab and the Jhelum was given to Pakistan
The treaty allowed India to use western rivers water for limited irrigation use and unrestricted use for power generation, domestic, industrial and non-consumptive uses such as navigation, floating of property, fish culture, etc. while laying down precise regulations for India to build projects
India has also been given the right to generate hydroelectricity through run of the river (RoR) projects on the Western Rivers which, subject to specific criteria for design and operation is unrestricted.
Present Status of Development
To utilize the waters of the Eastern rivers which have been allocated to India for exclusive use, India has constructed Bhakra Dam on Satluj, Pong and Pandoh Dam on Beas and Thein (Ranjitsagar) on Ravi.
These storage works, together with other works like Beas-Sutlej Link, Madhopur-Beas Link, Indira Gandhi Nahar Project etc has helped India utilize nearly entire share (95 %) of waters of Eastern rivers.
However, about 2 MAF of water annually from Ravi is reported to be still flowing unutilized to Pakistan below Madhopur.
The three projects will help India to utilize its entire share of waters given under the Indus Waters Treaty 1960:
I. Resumption of Construction of Shahpurkandi project
It is a dam project under construction on Ravi River.
II. Construction of Ujh multipurpose project
It is a dam project under construction on Ujh, a tributary of Ravi River.
III. 2nd Ravi Beas link below Ujh
This project is being planned to tap excess water flowing down to Pakistan through river Ravi, even after construction of Thein Dam.
It aims constructing a barrage across river Ravi for diverting water through a  tunnel link to Beas basin.
Get an IAS/IPS ranker as your 1: 1 personal mentor for UPSC 2024
Attend Now