Date: 7th Nov 2022, 7:00 pm | Register for 1-1 conversation with senior IAS mentor for timetable discussion + FREE CD PDFs and Mains material
---
The mismanagement of time for any UPSC aspirant, whether a working professional or a full-time one, is caused by a lack of understanding of how to divide time according to the priority and relevance of the syllabus.
What is mismanagement of time?
It has 3 dimensions
Spend a lot of time on Prelims only
Starting Answer writing and Optional Subject after prelims
Not following a segregated daily approach
Examinees are often advised to devote at least 12 months to prepare for the civil service examinations. But, these 12 months even may run short if you don't have a proper/flexible timetable. The importance of planning, discipline, and consistency for UPSC preparation comes from making a timetable and planning in a manner that is balanced and integrated, which means it should include UPSC prelims, Mains, and Optional preparation.
You mustn't waste time if you have limited time and still wish to pass the exam because the syllabus is comprehensive and often open-ended, it needs bright covering with a select few sources.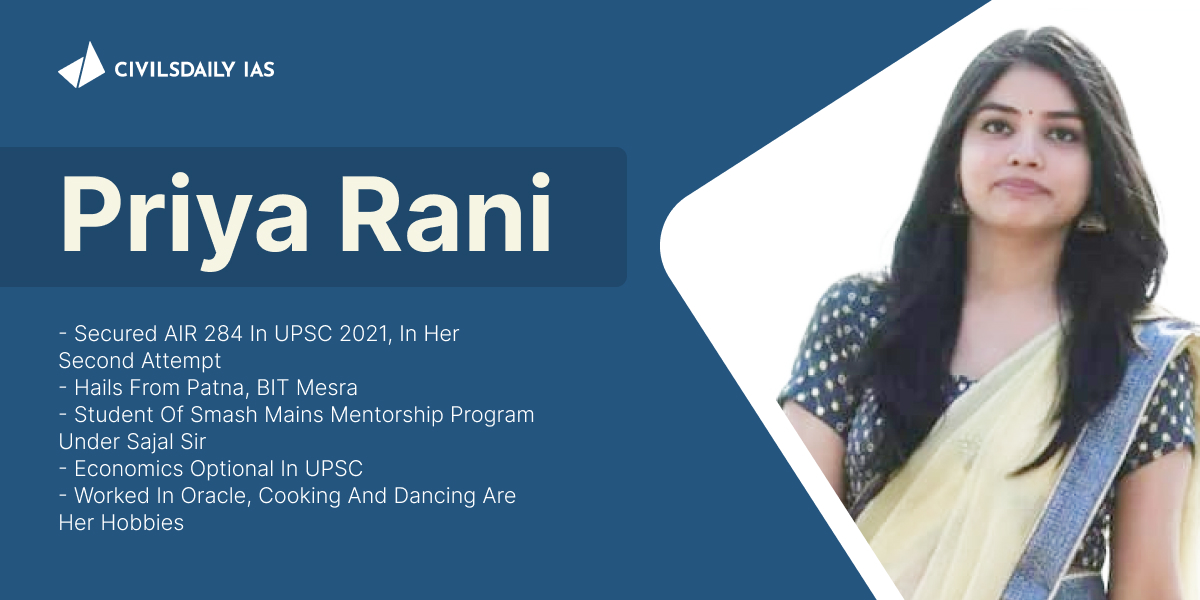 Acknowledging the need to ensure a holistic flexible timetable/daily routine, Priya Rani AIR 284 is taking up a webinar masterclass to help you make a timetable and impart skills to plan your day for a holistic and integrated preparation.
---
Objectives of the special masterclass: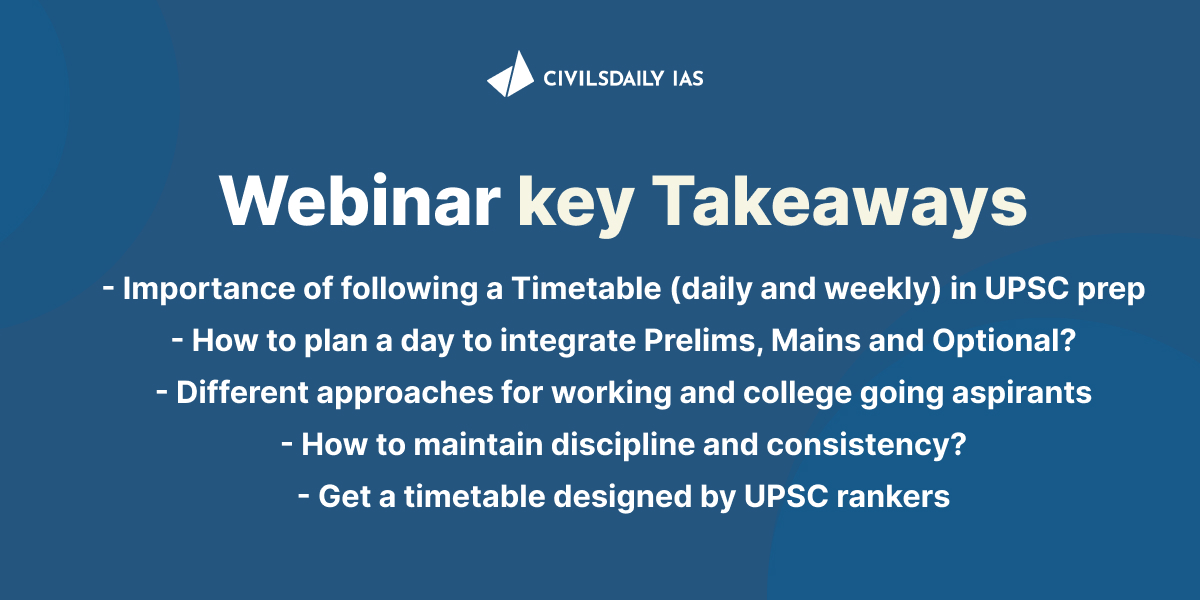 – Importance of following a Timetable (daily and weekly) in UPSC prep
– How to plan a day to integrate Prelims, Mains and Optional?
– Different approaches for working and college-going aspirants
– How to maintain discipline and consistency?
– Get a timetable designed by UPSC rankers
---
Additional IMP key takeaways
Management of Priorities – UPSC, family, life, and work.
Reducing time on non-priorities.
Planning ahead, making targets, staying consistent w.r.t targets.
How should the syllabus be approached to complete it within the time limit?
Balancing prelims-mains on one hand and GS-current affairs on the other.
How to determine the primary focus areas of the Prelims, Mains, and Personality tests?
How to apply bookish as well as classroom knowledge to the exam?'
Do and don't of UPSC preparation. The most common mistakes will also be discussed.
---
What The Hindu mentioned about Civilsdaily Mentorship
Quora Digests:
Register for the webinar.