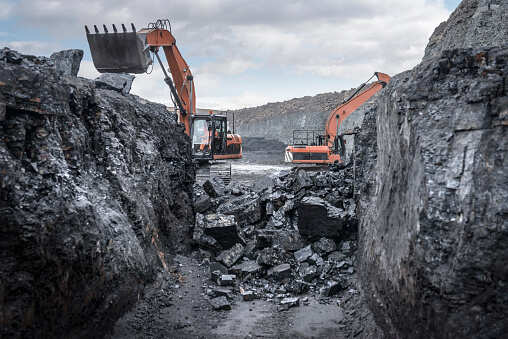 Context
In an attempt to attract investments in coal mining, the Union Cabinet approved the promulgation of Mineral Laws (Amendment) Ordinance 2020.

With this India has opened up the coal sector completely for commercial mining for all local and global firms after easing restrictions on end-use and prior experience in auctions.

The move is sought to bring an end to state-run Coal India Ltd's (CIL) monopoly.
Background: India's Coal Sector
Coal is the most important and abundant fossil fuel in India. It accounts for 55% of the country's energy need.

India has the fifth-largest coal reserves in the world producing 662.79 million metric tons (730.60 million short tons) in 2016–17.

The Coal resources of India are available in older Gondwana Formations of peninsular India and younger Tertiary formations of north-eastern region.

Due to high demand and poor average quality, India is forced to import high quality coal to meet the requirements of steel plants.
Types of Coal found in India
Anthracite: It is the highest grade of coal containing a high percentage of fixed carbon. It is hard, brittle, black and lustrous. It is found in smaller quantity in regions of Jammu and Kashmir.
Bituminous: It is a medium grade of coal having high heating capacity. It is the most commonly used type of coal for electricity generation in India. Most of bituminous coal is found in Jharkhand, Odisha, West Bengal, Chhattisgarh, and Madhya Pradesh.
Subbituminous: It is black in colour, dull (not shiny) and has a higher heating value than lignite.
Lignite: It is the lowest grade coal with the least carbon content. It is found in the regions of Rajasthan, Tamil Nadu, and Jammu & Kashmir.
About the Ordinance
The Union Cabinet approved promulgation of Mineral Laws (Amendment) Ordinance 2020 to amend the Coal Mines (Special Provisions) Act, 2015, as well as the Mines and Minerals (Development and Regulation) Act, 1957.
Key Provisions
The ordinance democratizes the coal industry and makes it attractive for merchant mining companies, including multinationals to look at India.

The ordinance allows any India-registered company to bid and develop coal blocks.

It would allow any companies that do not have coal mine operations in India to also participate in coal block auctions.

The end-use restrictions – meaning coal produced from them could be used only for the designated captive purpose only and not traded in the market has now been lifted.

The central government can auction coal and lignite mining licences only to companies engaged in iron and steel, power and coal washing sectors.

The companies also needed prior experience of mining in India to bid for the blocks.
How it worked earlier?
Until now there were restrictions on who could bid for coal mines.

Only those in power, iron and steel, and coal washery business could bid for mines and the bidders needed prior experience of mining in India.

This effectively limited the potential bidders to a select circle of players and thus limited the value that the government could extract from the bidding.
Other provisions of the Ordinance
The Centre has set a mining target of 1.5 billion tonnes of coal by 2020.

Of this, 1 billion tonnes were to be from CIL and 500 million tonnes from non-CIL sources, in line with the government's push to raise natural resources production to kickstart economic growth.

This has now been revised down to 1 billion tonnes of coal by 2023-24.
Why was such Ordinance promulgated?
Attracting FDIs
The government plans to promote FDI in the coal sector by removing restrictions and eligibility criteria for participation in coal block auctions.
Curbing import
Despite having the world's fourth-largest coal reserves, India imported 235 million tonnes (mt) of coal last in 2019 of which 135mt valued at ₹171,000 crore.

With these amendments the government aims to curb imports of coal through and encourage the use of the country's coal reserves, which had earlier been available only for the captive use of the steel and power industry.
Boosting economic growth
Till now, FDI was only allowed in coal mines allotted for captive use, meaning for use by the companies themselves.

But now with the slowing economy the centre New is trying to attract foreign investment to get economic growth back on track.
Benefits of the move
The move will help India gain access to sophisticated technology for underground mining used by global miners.

It will ease rules for auctioning coal mines to open up to all sectors.

Large investment in mining will create jobs and set off demand in critical sectors such as mining equipment and heavy commercial vehicles.
Consequences on CIL
Coal India Limited (CIL) is a Maharatna PSU and tremendous public resources have been invested in the company over the years. It contributes to around 82% of the coal production in India.

The company employs about 3 lakh people and is a national asset. Opening up of coal mining effectively ends CIL's monopoly status.

However CIL will be "supported and strengthened" and adequate blocks will be allocated to it to meet the target of producing 1 billion tonnes of coal by 2023.
 Conclusion
The move comes at a time when the window for fossil fuels is rapidly closing, and the global energy landscape evolving, with fundamental changes to the investment culture amid growing climate concerns.

As a responsible global player, India must put in place stringent norms to limit pollution and carbon emissions, even if fresh coal is being mined.

Getting access to new and environment-friendly technologies could be a precondition to allowing foreign players in mining coal.
---
---
References
https://www.thehindu.com/opinion/editorial/mining-deep/article30526562.ece
https://www.livemint.com/industry/energy/india-opens-up-coal-mining-further-11578477090179.html
https://indianexpress.com/article/business/cabinet-clears-ordinance-to-remove-restrictions-on-coal-block-bidding-6206950/
https://economictimes.indiatimes.com/industry/indl-goods/svs/metals-mining/govt-approves-ordinance-to-auction-coal-mines/articleshow/73153778.cms?from=mdr
http://www.indiaenvironmentportal.org.in/content/466643/mineral-laws-amendment-ordinance-2020/