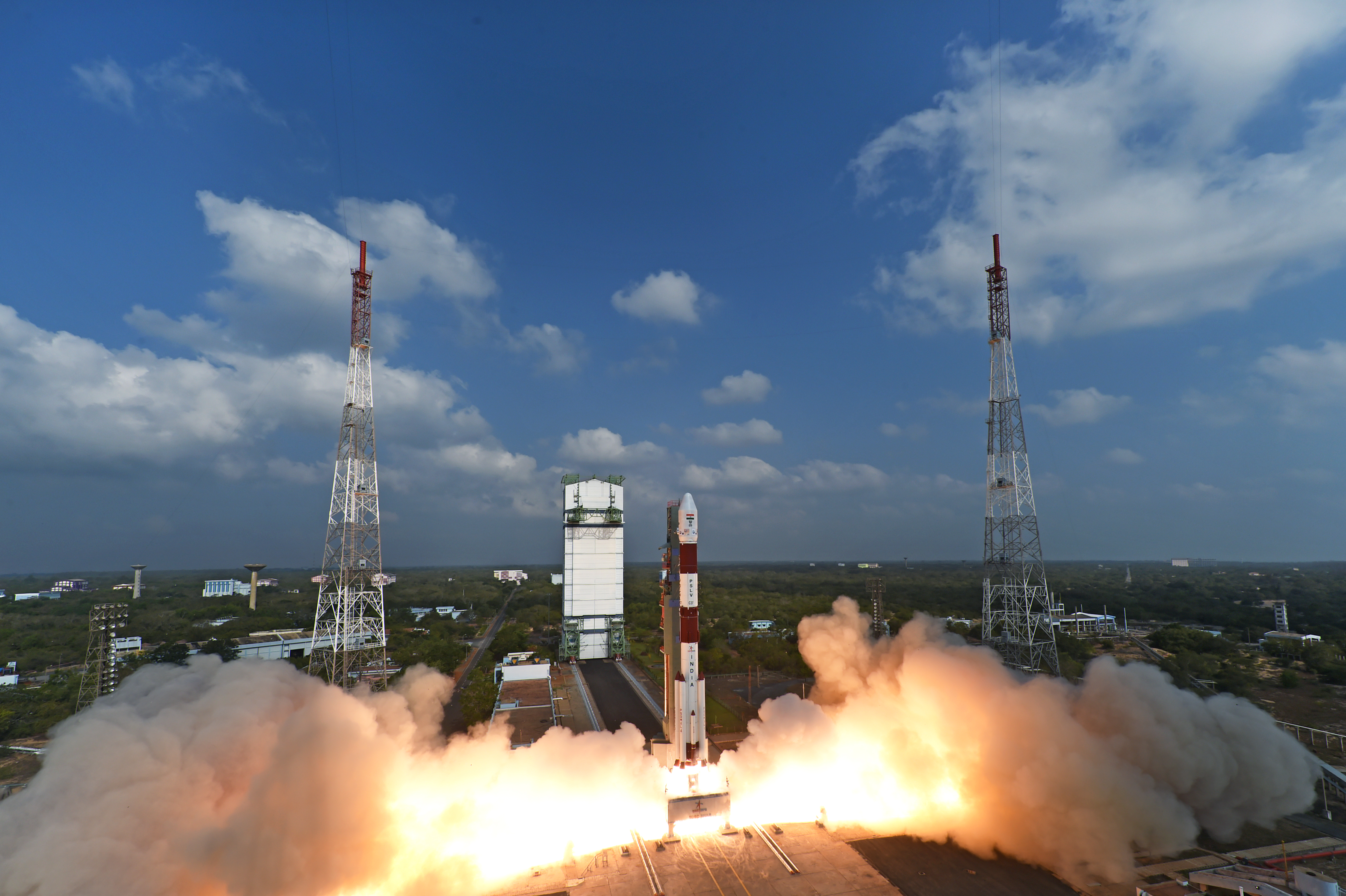 Click and Get your FREE copy of Current Affairs Micro notes             
Context
The Indian Space Research Organisation recently launched a constellation of 36 broadband satellites developed by OneWeb to Low Earth Orbit.
This was the first commercial launch for LVM-3 and the mission is being conducted under an agreement between OneWeb and New Space India Limited (NSIL).
Also, the Principal Scientific Adviser Ajay Kumar Sood stated in July 2022 that the government would soon come up with a new space policy to increase private sector participation in the industry.
In this context, in this edition of the burning issue, we will be analyzing the Indian Space Industry in detail and suggest what more needs to be done to further improve the industry.
Vision and Background of the Indian space industry
The Indian space program is driven by the vision of Vikram Sarabhai, considered the father of the Indian space program.
India's interest in space travel began in the early 1960s, when scientists launched a Nike-Apache rocket from TERLS, Kerala.
The Indian National Committee for Space Research was subsequently set up, which later became the Indian Space Research Organisation (ISRO) functioning under a new independent Department of Space in the 1970s under the Prime Minister of India.
India's space program has impressively evolved for the past 50 years. Throughout the years, ISRO has upheld its mission of bringing space to the service of the common man, and the service of the Nation.
Currently, India's Space Industry is predominantly driven by the national Indian Space Research Organisation (ISRO). The industry includes over 500 private suppliers and other various bodies of the Department of Space in all commercial, research and arbitrary regards.
Facts about the Indian space industry
Among Top 5 nations: In terms of technological capabilities, India ranks among the top 5 space-faring nations of the world.
Costing edge over others: India is globally recognized for building low-cost satellites and launch vehicles. The global space economy is estimated at ~US $440 billion.
6th largest market player: As per SpaceTech Analytics, India is the sixth-largest player in the industry internationally having 3.6% of the world's space-tech companies (as of 2021). The U.S. holds the leader's spot housing 56.4% of all companies in the space-tech ecosystem. Other major players include the U.K. (6.5%), Canada (5.3%), China (4.7%) and Germany (4.1%).
Exponential growth ahead: In 2019, the space industry of India accounted for $7 billion or 2% of the global space industry. Antrix Corporation expects the industry to grow up to $50 billion by 2024 if provided with appropriate policy support.
Achievements of the Indian space industry
Growing budget: India's total budgetary allocation for FY2022-23 towards the Department of Space was ₹13,700 crore.
Startups boom: As per Tracxn data, funding into the sector's start-ups (in India) nearly tripled to $67.2 million on a year-over-year basis in 2021. There were more than 40 startups in India in early 2021 in various stages of developing their launch vehicles, designing satellites and other allied activities
Reliable satellite launcher: By 2019, India had launched more than 300 satellites for various foreign states. ISRO has a record on its name of launching 104 satellites in one go. The recent LVM launch is a further extension of it.
Growing Private sector participation: Reforms liberalizing the space sector and nondisclosure agreements came in the late 2010s, leading to the emergence of various private spaceflight companies such as Larsen and Toubro, Godrej aerospace etc.
Successful Interplanetary missions: ISRO has launched several interplanetary missions such as the Mars orbiter mission, Chandrayaan 1 and 2. Ambitious missions like Gaganyaan, and Aditya L1 are in pipeline.
Role of the private sector in the Indian Space Industry
(A) Initial Growth
Over four decades, ISRO continued transferring technologies to small and medium enterprises (SMEs), leading to there being over 500 suppliers of various components in 2017.
During 1990's, The Department of Space actively promoted the growth of the sector, leading to the establishment of the manufacturing of various systems. Large mapping projects for various civilian and military requirements were outsourced by the government, which drove the growth of India's private space sector. However, the private sector still played a supporting role, while the government continued to dominate the space sector.
(B) Emergence of startups
In the late 2010s, a large number of startups started to emerge throughout the country with their proposals and concepts to develop various satellite technologies and rockets.
A range of initiatives to deregulate the private space sector was introduced by Narendra Modi's cabinet in June 2020, and the Indian National Space Promotion and Authorisation Centre (INSPACe) was established for incubating technology into private firms.
Throughout this time, various nondisclosure agreements and tech transfers have been taking place between ISRO and private entities. In February 2020, 35 startups came up in the space sector, of which three focused on designing rockets, 14 on designing satellites, and the rest on drone-based applications and services sector.
The number further grew to over 40 in January 2021. Two companies, Skyroot Aerospace and AgniKul Cosmos, have tested their engines and are in the advanced stages of developing their launch vehicles, while others have their launchers in the production pipeline and have launched satellites using ISRO rockets.
Challenges to the Indian space industry
Absence of a framework: The reason for the lack of independent private participation in space includes the absence of a framework to provide transparency and clarity in-laws.
Brain drain: Another aspect to throw light on is the extensive brain drain in India, which has increased by 85% since 2005.
Policy bottlenecks: Brain drain can be linked to the bottlenecks in policies that create hindrances for private space ventures and founders to attract investors, making it virtually non-feasible to operate in India.
Security concerns from private activities: Government worries over knowledge sharing, launch methods, and satellite capabilities have led to a reluctance to allow private actors in the market due to security concerns.
Long gestation period: Many approval processes take a long time to complete. Approvals take around a year and a half. This comes at a time when the next three to four years are critical for the sector's growth.
State control: The ISRO is directly controlled by the Department of Space (DOS), which is under the Prime Minister's Office.
Licensing issues: Another regulatory worry is the licensing structure for satellite earth station gateways, which needs to be transformed to make it easier for any satellite operator to set one up.
Limited indigenization: Another challenge is promoting indigenous innovation. In the new global climate, the challenge for the country is to continue to benefit from this innovation.
Restricted FDI: Presently, FDI in space is allowed under government routes only for satellite establishment and operations. FDI in space is approved by the Government on a case-by-case basis and often this approval takes time.
Criticisms of Space Programmes
For a long, India is known to be making investments in the space arena for social, scientific and security purposes. However, many fundamentalists see investment in space as a waste of money.
All previous missions of ISRO are about the race for planetary resources. Unfortunately, it has not planned for any missions to asteroids, an ideal bed for mineral mining.
After Chandrayaan-2 failure, there is a danger that future ambitious missions could also end up only as a 'feel-good program' with Gaganyaan coming ahead.
Steps taken to promote the space industry
ANTRIX: ISRO's business branch is called Antrix, which markets ISRO's space products and technologies to a global audience.
Launching of the Indian Space Association (ISpA):  In 2021, the Government of India launched the Indian Space Association (ISpA) to open the Indian space industry to private sectors and start-ups. Several private companies like Larsen & Toubro, Nelco (Tata Group), OneWeb, MapmyIndia, Walchandnagar Industries are founding members of this organization.
Establishment of IN-SPACe: The Indian National Space Promotion and Authorisation Centre (IN-SPACe) was mandated with the task of promoting, authorizing and licensing private players to carry out space activities.
Establishment of NSIL: New Space India Ltd (NSIL), is mandated to transfer the matured technologies developed by the ISRO to Indian industries.
Boost to Atmanirbhar call: This will enhance the diffusion of space technology and boost the space economy within the country, for a resurgent, AatmaNirbhar Bharat. Additionally, it will enable the commercialization of space technology, boost private investments, and prepare the youth as space leaders, and innovations in the sector for the progress of humanity.
Increased FDI limit in certain cases: witnessing the change in the approach of the Indian Government towards private player's involvement, Indian companies will be allowed to invest up to 100% and 70% through FDI with approval of the center in all the streams viz. Upstream, midstream and downstream segments.
New Space Activities Bill: As of 2021, a new Space Activities Bill and a space policy are being drafted by NALSAR Centre for Aerospace and Defence laws to regulate space manufacturing and the legal aspects of the industry in India.
What more needs to be done?
Creating a policy and regulatory framework: that is predictable for both ISRO and private firms.
Renting ISRO's facility: Allowing commercial enterprises to rent ISRO testing facilities to test their products and equipment.
Improved regulatory clarity: this would result in fewer hurdles to entry for private companies and better synergy between ISRO and private partners.
Private companies should be given more incentives: to develop satellites or test rockets, lowering costs and increasing incentives for enterprises to build operational spacecraft.
ISRO's assistance: ISRO should assist the private sector in attracting both domestic and foreign direct investment by offering access to its satellite technology, facilities, and orbital slots (FDI).
Need for space legislation in India: India has invested enormous resources in its space program through the ISRO. We need space legislation enabling coherence across technical, legal, commercial, diplomatic and defense goals.
Conclusion
Future readiness is the key to maintaining an edge in technology and ISRO endeavors to optimize and enhance its technologies as the needs and ambitions of the country evolve.
Indian space industry thus is at the cusp of major evolution. Strong government handholding and ISRO's mentorship of startups could play a significant role in the socioeconomic and technological development of India.