Note4Students
From UPSC perspective, the following things are important :
Prelims level : Not Much
Mains level : Ethnic turmoil in North East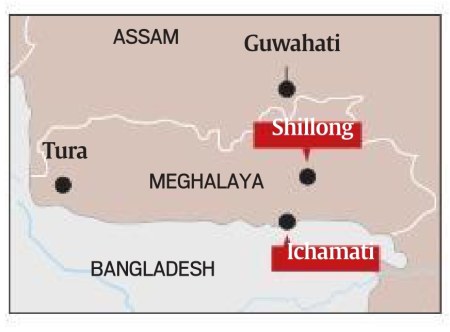 Last week, ethnic violence left three dead in Meghalaya. The violence underlined the ethnic complexities of Meghalaya, with tensions coming back to the fore following the passage of the Citizenship (Amendment) Act.
Multi-ethnic Meghalaya
Meghalaya became a state in 1972 when it was carved out of Assam. Before that, Shillong, now Meghalaya's capital, used to be the capital of Assam.
Sharing a 443-km border with Bangladesh, Meghalaya has seen decades of migration from areas that are now in Bangladesh, as well as from various Indian states via Assam.
Besides the indigenous groups, Meghalaya's residents include Bengalis, Nepalis, Marwaris, Biharis and members of various other communities.
Meghalaya is a tribal majority state, and the indigenous Khasis, Jaintias and Garos are entitled to 80% reservation in government jobs.
Various groups have continuously expressed concerns that illegal migration from Bangladesh and the growth of "outsiders" from other states would overwhelm the indigenous communities.
Meghalaya violence: The CAA context
The CAA relaxes the norms for Hindus from Bangladesh (among six religious groups from three countries) for eligibility to apply for Indian citizenship.
Long before that, the legislation was already facing protests in the Northeast, including Meghalaya. Eventually, the Centre decided the CAA will not apply in Sixth Schedule areas.
The Sixth Schedule of the Constitution has special provisions for administration of certain areas in the Northeast, including almost the whole of Meghalaya.
Despite the large exemption, the concerns have persisted in Meghalaya, and demands for an Inner Line Permit (ILP) regime have gathered fresh momentum.
If the ILP system is introduced, every Indian citizen from any other state would require a time-bound permit to visit Meghalaya.
Signals simmering tensions
The last four decades have seen numerous incidents of violence in Meghalaya targeted at non-tribals, including from Bengal and Nepal.
The latest bout follows a sustained campaign over the implementation of the Inner Line Permit and unrest in the Northeast over the CAA that led to six deaths in Assam two months ago.
The violence last week has an immediate context in the anti-CAA campaign and ILP demand.
Shillong, then and now
Shillong has seen violence against "outsiders" several times in the last four decades.
The targets were Bengalis in 1979, Nepalis in 1987, and Biharis in 1992.
In 2018, Shillong saw clashes between Khasis and Punjab-origin Dalit Sikhs whose ancestors had settled there over 100 years ago.
All that began collapsing after Independence, Constitutional institutions set up to safeguard the interest of the tribes came to be popularly perceived as opportunities to convert these tribal areas into exclusive zones of tribal hegemony.
The issue of 'foreigners' illegally residing in the state of Meghalaya was one of the most important issues which dominated state politics in the 1970s and 1980s.
In 1979, the state was plunged into a crisis for the first time since it was created.