Note4Students
From UPSC perspective, the following things are important :
Prelims level : G-20 countries
Mains level : Global cooperation for COVID-19 pandemic
A Virtual G20 Leaders' Summit was recently convened yesterday to discuss the challenges posed by the outbreak of the COVID-19 pandemic and to forge a globally coordinated response.
About G20
Formed in 1999, the G20 is an international forum of the governments and central bank governors from 20 major economies.
Collectively, the G20 economies account for around 85 percent of the Gross World Product (GWP), 80 percent of world trade.
To tackle the problems or the address issues that plague the world, the heads of governments of the G20 nations periodically participate in summits.
In addition to it, the group also hosts separate meetings of the finance ministers and foreign ministers.
The G20 has no permanent staff of its own and its chairmanship rotates annually between nations divided into regional groupings. 
Aims and objectives
The Group was formed with the aim of studying, reviewing, and promoting high-level discussion of policy issues pertaining to the promotion of international financial stability.
The forum aims to pre-empt the balance of payments problems and turmoil on financial markets by improved coordination of monetary, fiscal, and financial policies.
It seeks to address issues that go beyond the responsibilities of any one organisation.
Member Countries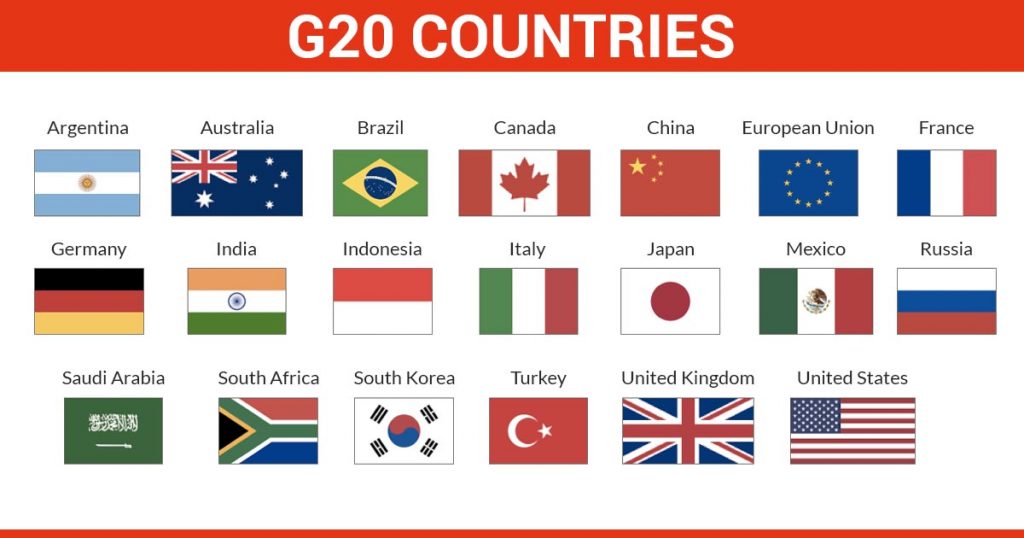 The members of the G20 consist of 19 individual countries plus the European Union (EU).
The 19 member countries of the forum are Argentina, Australia, Brazil, Canada, China, France, Germany, India, Indonesia, Italy, Japan, Mexico, Russia, Saudi Arabia, South Africa, South Korea, Turkey, United Kingdom and the United States.
The European Union is represented by the European Commission and by the European Central Bank.
 Who are the G20 Sherpas?
A Sherpa is the personal representative of a head of state or government who prepares an international summit, particularly the annual G7 and G20 summits.
Between the summits, there are multiple Sherpa conferences where possible agreements are laid out.
This reduces the amount of time and resources required at the negotiations of the heads of state at the final summit.
The Sherpa is generally quite influential, although they do not have the authority to make a final decision about any given agreement.
The name is derived from the Sherpa people, a Nepalese ethnic group, who serve as guides and porters in the Himalayas, a reference to the fact that the Sherpa clears the way for a head of state at a major summit.
Get an IAS/IPS ranker as your 1: 1 personal mentor for UPSC 2024
Attend Now