Note4Students
From UPSC perspective, the following things are important :
Prelims level : Himalayan Ibex
Mains level : NA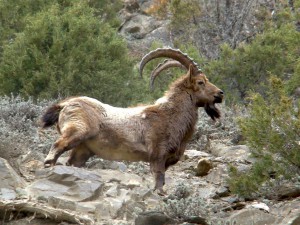 A recent study by scientists of the Zoological Survey of India (ZSI) has proved that Himalayan Ibex, distributed in the trans-Himalayan ranges of Jammu and Kashmir, Ladakh and Himachal Pradesh, is a distinct species from the Siberian Ibex.
Himalayan Ibex
IUCN/WPA Status:    Least Concern / Schedule I
Himalayan Ibex (Capra ibex sibirica) is widely found in arid and rocky mountain of Karakoram, Hindukush and Himalayas of Gilgit-Baltistan.
The males are characterized by heavy body, large horns, long bears while females have small body small horns.
The threats that Himalayan ibex face are the illegal hunting, human disturbance, habitat loss and competition for forage with domestic livestock.