National Green Tribunal has directed Central Pollution Control Board (CPCB) and Delhi Pollution Control Committee (DPCC) to take remedial action against the three waste-to-energy plants in Ghazipur, Okhla and Narela-Bawana.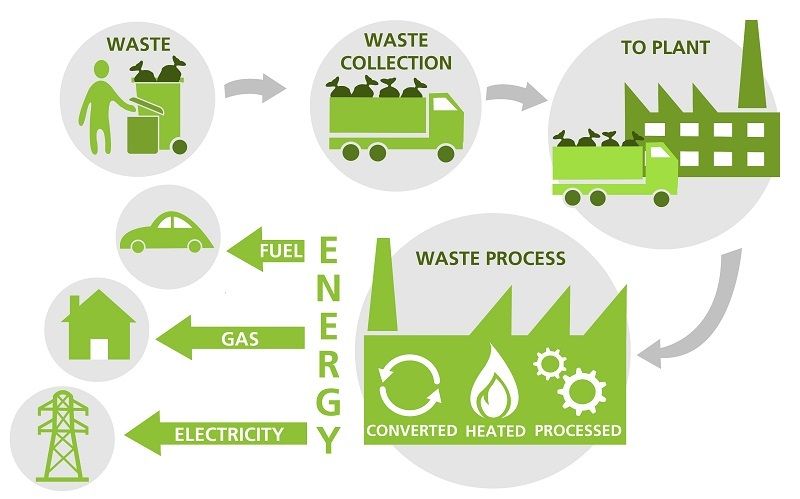 Waste to Energy:
Waste to Energy or Waste to Power is the process of generating energy in the form of electricity and heat from the primary treatment of waste.
Methods for waste to Power generation:
1. Thermal technologies:
Incineration:

It is the most common and popular method for waste to energy generation.
The organics from the waste collected are burnt at high temperatures.

Gasification: Produces combustible gas, hydrogen, synthetic fuels
Thermal depolymerization: Produces synthetic crude oil, which can be further refined
Pyrolysis: Produces combustible tar/bio-oil and chars
Plasma arc gasification or plasma gasification process (PGP): Produces rich syngas including hydrogen and carbon monoxide usable for fuel cells or generating electricity to drive the plasma arch.
2. Non-thermal technologies:
Anaerobic digestion: Biogas rich in methane
Fermentation production: Examples are ethanol, lactic acid, hydrogen
Mechanical biological treatment: Combines a sorting facility with a form of biological treatment such as composting.
Advantages of WTE plants:
Decreases quantity of waste
Efficient waste management
Production of heat and power
Reduction of pollution
Incinerators have filters for trapping pollutants
Saves on transportation of waste
Provides better control over odour and noise
Prevents the production of methane gas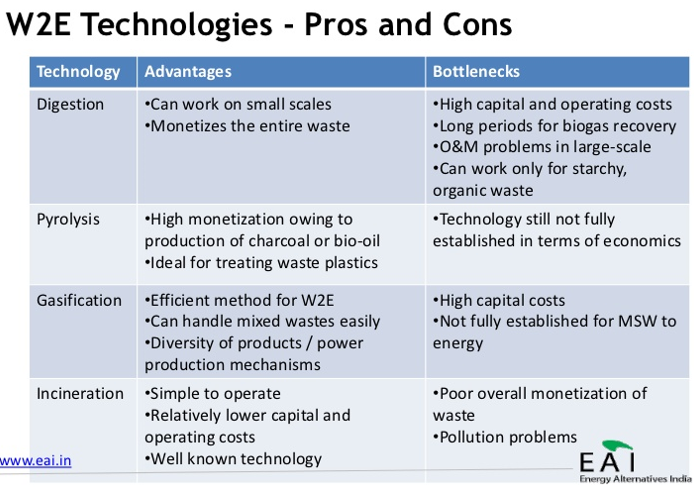 Challenges for India:
Lack of general awareness on waste management
Unsegregated waste
High moisture content
Unorganized sector
High wear and tear of equipment due to foreign materials
Only electricity demand
Cycle Efficiency is low
Lack of enforcement of rules / regulations
Lack of Transparency in plant management
Lack of adequate waste disposal cost
Lack of customization of plant and machinery to suit Indian condition