To provide relief to stressed companies, the Finance Ministry expanded the scope of a government-guaranteed credit facility to healthcare and stressed sector companies that have loan dues for up to 60 days (or SMA-1 accounts),as against 30 days earlier (SMA-0).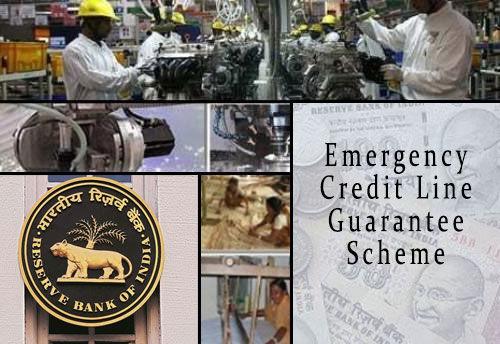 Key highlights:
This has been expected to provide partial relief to stressed firms facing fresh uncertainty and business risks due to fresh lockdowns and restrictions being imposed by states.
SMA-1 borrowers in the healthcare sector and 26 other high stress sectorsare now eligible under ECLGS 2.0.

Companies from hospitality, travel & tourism, and leisure & sportingsectors are expected to benefit from the relaxation in the scheme.

Accounts that are classified as non-performing assets or where overdueshave crossed 60 days (SMA-II) are not eligible.
Companies that had loan dues up to 30 days (Special Mention Accounts or SMA-0) as on February 29, 2020, were being provided additional credit of 20 per cent outstanding under the scheme, which will now be given to SMA-1 accounts as well.
The government has recently extended the ECLGS till June 2021, as against March 31, 2021 earlier.
About the ECLGS scheme:
The Finance Ministry unveiled a Rs. 20 Lakh Crore comprehensive package, known as the Emergency Credit Line Guarantee Scheme (ECLGS), in view of the economic distress caused by the COVID-19 pandemic.
This package is in aid of MSME sector, addressing working capital needs, operational liabilities and restart business impacted due the COVID-19 crisis.
Borrowers with up to Rs. 25 Crore outstanding as on Feb 29, 2020 and up to Rs. 100 Crore annual turnover for FY 2020 are eligible for this scheme.
Business Enterprises, MSMEs constituted as Proprietorship, Partnership, registered company, trusts and Limited Liability Partnerships (LLPs) shall also be eligible.
Borrower accounts which had NPA or SMA-2 status as on Feb 29, 2020 shall not be eligible under the scheme.
20% of the total outstanding credit of borrowers can be sanctioned as a loan under the Guaranteed Emergency Credit Line (GECL), for those who having a loan as on Feb 29, 2020.
Special Mention Accounts:
SMAs are those assets/accounts that shows symptoms of bad asset qualityin the first 90 days itself or before it being identified as NPA.
The classification of Special Mention Accounts (SMA) was introduced by the RBI in 2014, to identify those accounts that has the potential to become an NPA/Stressed Asset.
Logic of such a classification is because some accounts may turn NPA soon.

An early identification will help to tackle the problem better.
There are four types of Special Mention Accounts – SMA-NF, SMA 0, SMA1 and SMA 2.

The Special Mention Accounts are usually categorized in terms of duration.
For example, in the case of SMA -1, the overdue period is between 31 to 60 days.

On the other hand, an overdue between 61 to 90 days will make an asset SMA -2.

But some 'Special Mention' assets are identified on the basis of other factors that reflect sickness/irregularities in the account (SMA -NF).
In the case of SMA -NF, non-financial indications about stress of an asset is considered.
Get an IAS/IPS ranker as your 1: 1 personal mentor for UPSC 2024
Attend Now