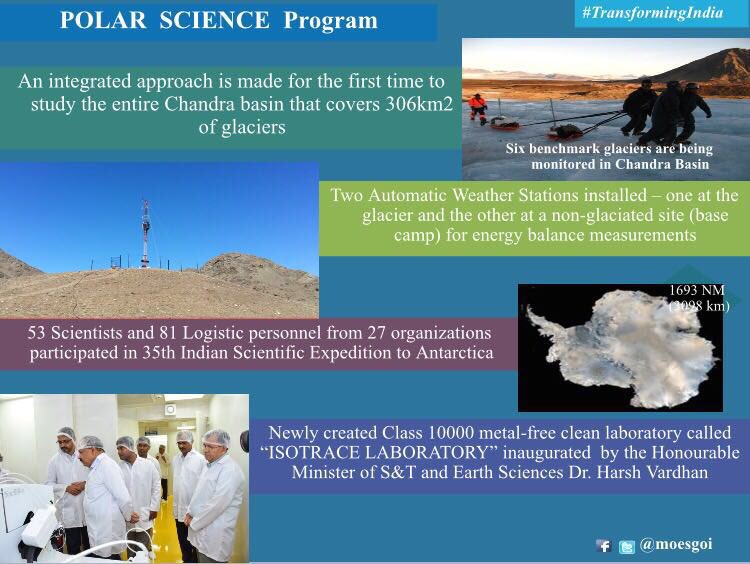 ARCTIC
India initiated its Arctic Research Program in 2007 with thrust on climate change in the circumpolar north. The major objectives of the Indian Research in Arctic Region are as follows:
To study the hypothesized tele-connections between the Arctic climate and the Indian monsoon by analyzing the sediment and ice core records from the Arctic glaciers and the Arctic Ocean.
To characterize sea ice in Arctic using satellite data to estimate the effect of global warming in the northern polar region.
To conduct research on the dynamics and mass budget of Arctic glaciers focusing on the effect of glaciers on sea-level change.
To carry out a comprehensive assessment of the flora and fauna of the Artic vis-àvis their response to anthropogenic activities. In addition, it is proposed to undertake a comparative study of the life forms from both the Polar Regions.
Research Stations in the Arctic
Himadri – India launched its first scientific expedition to the Arctic Ocean in 2007 and opened a research base named "Himadri" at the International Arctic Research Base at Ny-Alesund, Svalbard, Norway in July 2008 for carrying out studies in disciplines like Glaciology, Atmospheric Sciences & Biological Sciences.
ANTARCTIC
Many countries have set up research stations in Antarctica to study the climate, weather, geology, and wildlife of this unique region.
The Indian Antarctic Program is a multi-institutional program under the control of the National Centre for Antarctic and Ocean Research, Ministry of Earth Sciences, Government of India. It was initiated in 1981 with the first Indian expedition to Antarctica. Under the program, atmospheric, biological, earth, chemical, and medical sciences are studied.
Indian Research Stations in Antarctica
S No.
Station
Description
1
Dakshin Gangotri(1981)
1. India's first research station in Antarctica.

2. Currently being used as a supply base and transit camp

2
Maitri(1989)
1. Located on the Schirmacher Oasis and has been conducting experiments in geology, geography and medicine

2. A freshwater lake was built around Maitri- Lake Priyadarshini

3
Bharati(2015)
1. Located beside Larsemann Hills and conducts oceanographic research.
Antarctic Treaty System
The Antarctic Treaty and related agreements, collectively known as the Antarctic Treaty System (ATS), regulate international relations with respect to Antarctica, Earth's only continent without a native human population.
The treaty entered into force in 1961 and currently has 53 parties.
The treaty sets aside Antarctica as a scientific preserve, establishes freedom of scientific investigation and bans military activity on the continent.
India officially acceded to the Antarctic Treaty System in 1983.
Accomplishments of Indian scientific community in Antarctica
Identification of a number of new species of bacteria from the cold habitats of Antarctica- 30 out of 240 new species discovered so far have been by Indian scientists.
Identification of new genes from the bacteria as genes required for the survival of bacteria at low temperature.
Identification of a number of lipases and proteases active at low temperatures and useful for the biotechnology industry.
Preparation of comprehensive geological and geomorphological maps of the Schirmacher Oasis.
Studies of cold adaptability of human beings in the harsh environment of Antarctica which have provided significant baseline data for use in similar studies on India's armed forces serving in the Himalaya.
Himansh
A centre has been established as a part of Indian government's initiative to study and quantify the Himalayan glacier responses towards climate change.
Significance of HIMANSH
• Help researchers to quantify the glacier melting and its relation to changing climate.
• For undertaking surveys using Terrestrial Laser Scanners (TLS) and Unmanned Aerial Vehicles (UAV).
• Help indigitizing the glacier motion and snow cover variations with utmost precision.
• Some of the glacier that are already being studied under this project include Bada Shigri, Samudra Tapu,
Sutri Dhaka, Batal, Gepang Gath and Kunzam.