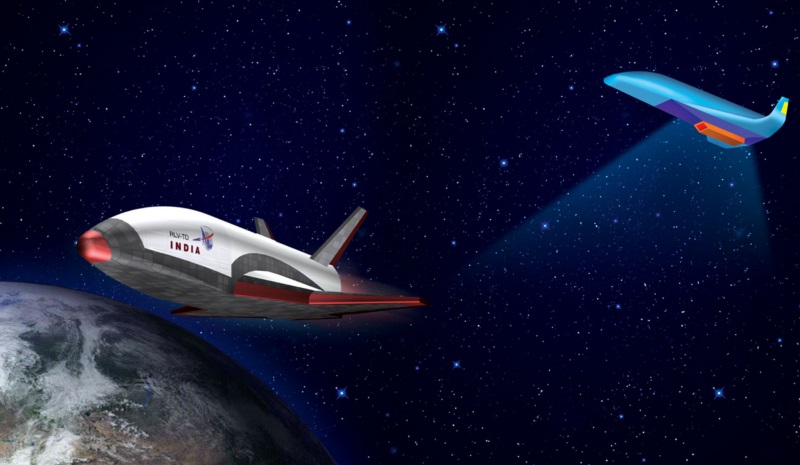 First things first, let's hold your excitement down – these are baby steps towards a fully functional RLV. What ISRO tested few days is a TD HEX-01 (Technology demonstrator) – It is a small, aircraft-like, winged structure.
Before we go into the details of
The RLV-TD is a series of technology demonstration missions that has been considered as a first step towards realising a Two Stage To Orbit (TSTO) fully re-usable vehicle.
Technology demonstration (TD) project by ISRO is to test different parameters related from the launch to landing of a Reusable launch Vehicle viz.
Testing the characterisation of aero-thermo dynamics of hypersonic flight

To test autonomous mission management of hypersonic vehicles 

To test re-entry technology for the vehicle
Important Points 
RLV-TD-HEX1, a prototype of actual vehicle, successfully launched on 23 May 2016 
Launched From – SDRC, Sriharikota, AP
2 Stage Process – launching rocket (HS9 Solid state booster) & RLV-TD (atop the rocket)
1st phase of testing RLV – Launched beyond the atmosphere after which RLV-TD separated & atmospheric reentry began @Ma5 (Hypersonic speed) – Navigation guidance and control system steered it accurately for a controlled descent  – landed in Bay of Bengal, 450km from Sriharikota. 
RLV will require 5km landing airstrip which is not available as of now. Will be build at SDRC, Sriharikota in near future. 
Ultimate Aim & Advantages of the RLV would be to send manned missions, including satellites into space and re-enter the Earth's atmosphere without extreme P and Heat condition (T)
Successful launch of RLV will have a huge impact on launching cost – will slash it down by 80% – RLV aims to achieve a low cost, reliable and on-demand space access 

Future Moon and Mars missions, Inter-Planetary missions 

Make India competitive Space player globally in terms of cheap affordable satellite launched (for LDCs), regular and periodic space missions and various space exercises like building its own Space Station in future similar to ISS, Tiangong-1
India will join select league of nations – Only USA (Columbia, Challenger, Discovery, Endeavour, Atlantis), Russia (Soyuz) & China (Shenzhou) have their own Space flights. After successful induction of RLV, India will also have its own manned spacecraft capability.
---
Development Process 
In Jan 2012 – Prototype of RLV-TD was approved to be built & tested 

RLV-TD developed at VSSC, Thiruvananthapuram
Aerodynamic characterisation – done by National Aerospace Laboratories in India
Thermal tiles does at VSSC, Trivandrum – Critical component during atmospheric reentry of the flight – to prevent the structure damage due to sudden rise in T due to Hypersonic speed (Ma5)
Total 4 phases of Technology demonstration and assessment
Technology will be developed and tested in phases through as series of experimental flights 
HEX – Hypersonic Flight Experiment – Done May 23, 2016 

LEX – Landing Experiment 

REX – Return Flight Experiment 

SPEX – Scramjet Propulsion Experiment
The final version will take 10-15 years to be ready. Still long time to go!! Other agencies involved in building reusable launch vehicles 
SpaceX – Elon Musk 

ESA

JAXA – Japan 

Blue Origin (Jeff Bezos – Amazon) 
---
Published with inputs from Gaurav