The Indian desert is also known as the Thar Desert or the Great Indian Desert.
Location and Extent:
Location – To the north-west of the Aravali hills.
It covers Western Rajasthan and extends to the adjacent parts of Pakistan.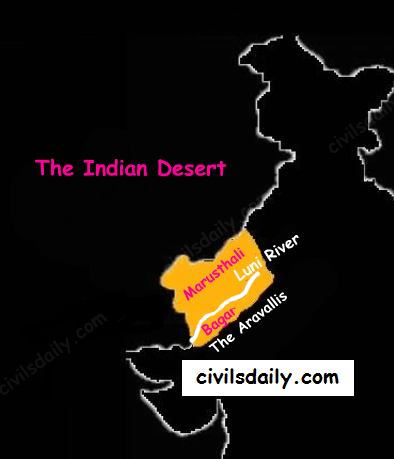 Geological History and Features
Most of the arid plain was under the sea from Permo-Carboniferous period and later it was uplifted during the Pleistocene age. This can be corroborated by the evidence available at wood fossils park at Aakal and marine deposits around Brahmsar, near Jaisalmer (The approximate age of the wood fossils is estimated to be 180 million years).
The presence of dry beds of rivers (eg Saraswati) indicates that the region was once fertile.
Geologically, the desert area is a part of peninsular plateau region but on the surface it looks like an aggradational plain.
Chief Characteristics:
The desert proper is called the Marusthali (dead land) as this region has an arid climate with low vegetation cover. In general, the Eastern part of the Marushthali is rocky, while its western part is covered by shifting sand dunes.
Bagar: Bagar refers to the semi-desert area which is west of Aravallis. Bagar has a thin layer of sand. It is drained by Luni in the south whereas the northern section has a number of salt lakes.
The Rajasthan Bagar region has a number of short seasonal streams which originate from the Aravallis. These streams support agriculture in some fertile patches called Rohi.
Even the most important river 'Luni' is a seasonal stream. The Luni originates in the Pushkar valley of the Aravalli Range, near Ajmer and flows towards the southwest into the Rann of Kutch.
The region north of Luni is known as the Thali or sandy plain.
There are some streams which disappear after flowing for some distance and present a typical case of inland drainage by joining a lake or playa e.g. the Sambhar Lake. The lakes and the playas have brackish water which is the main source of obtaining salt.
Well pronounced desert land features:

Sand dunes: It is a land of undulating topography dotted with longitudinal dunes, transverse dunes and barchans. [Barchan – A crescent-shaped sand dune, the horns of which point away from the direction of the dominant wind; Longitudinal dune – A sand dune with its crest running parallel to the direction of prevailing wind]

Mushroom rocks
Shifting dunes (locally called Dhrians)
Oasis (mostly in its southern part)