---
Context
After a delay of two years, the annual Crime in India Report 2017 was published by the National Crime Records Bureau (NCRB).
The NCRB has introduced more than three dozen new categories and sub-categories of crimes under various heads.
The report omits data on mob lynchings, khap killings, murder by influential people and killings for religious reasons.
Data on farmer suicides after 2015 are yet to be published although, sources said, the fully compiled.
About NCRB
The NCRB is an Indian government agency responsible for collecting and analyzing crime data as defined by the Indian Penal Code (IPC) and Special and Local Laws (SLL).
NCRB is headquartered in New Delhi and is part of the Ministry of Home Affairs (MHA).
NCRB was set-up in 1986 to function as a repository of information on crime and criminals so as to assist the investigators in linking crime to the perpetrators.
It was set up based on the recommendation of the Task-force 1985 and National Police Commission 1977.
Highlights of the report
At least four categories where significant diversification of data can be seen are crimes against women and children, atrocities against Dalits, cases of corruption, and time taken by police and courts to take cases to their conclusion.
For the first time, the NCRB has introduced categories of cyber crimes against women and children.
I. Crime against women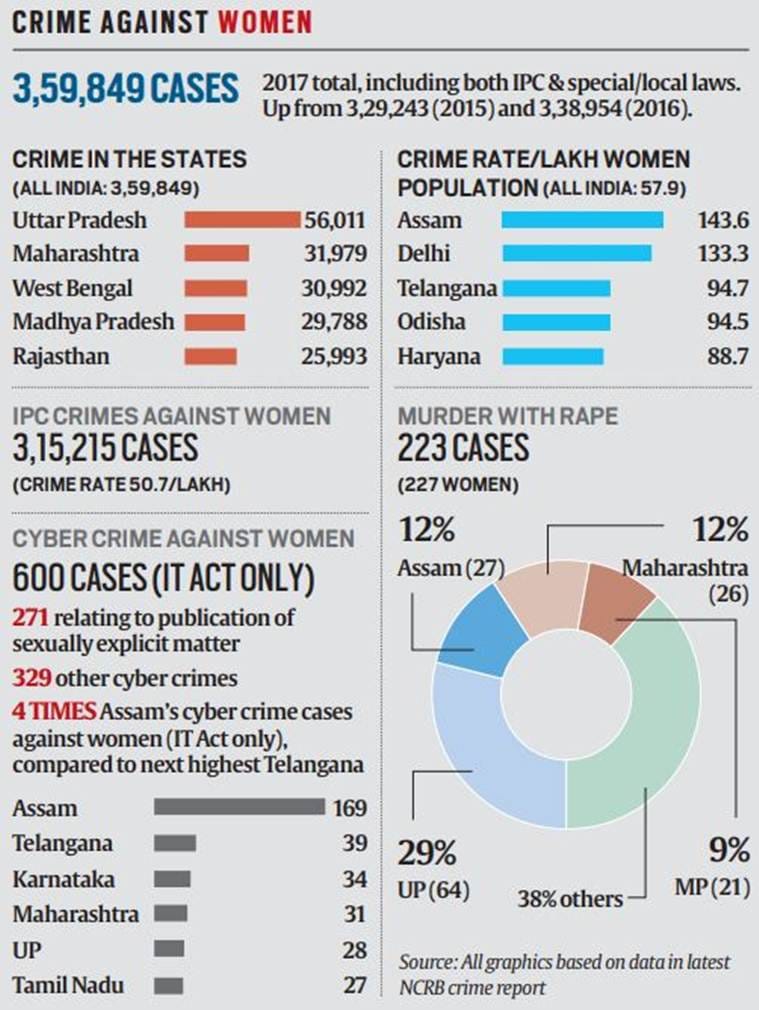 As per the report, 359849 cases of crime against women were reported in the country.
Uttar Pradesh topped the list with 56,011 cases followed by Maharashtra with 31,979 cases and West Bengal 30,002.
Majority of cases under crimes against women were registered under 'Cruelty by Husband or his Relatives' (27.9%) followed by 'Assault on Women with Intent to Outrage her Modesty' (21.7%), 'Kidnapping & Abduction of Women' (20.5%) and 'Rape' (7.0%)," the report said.
In the category of cyber crimes against women, the NCRB has recorded 4,242 offenses where women were either stalked, blackmailed or their morphed pictures were uploaded on the internet.
II. Crime against children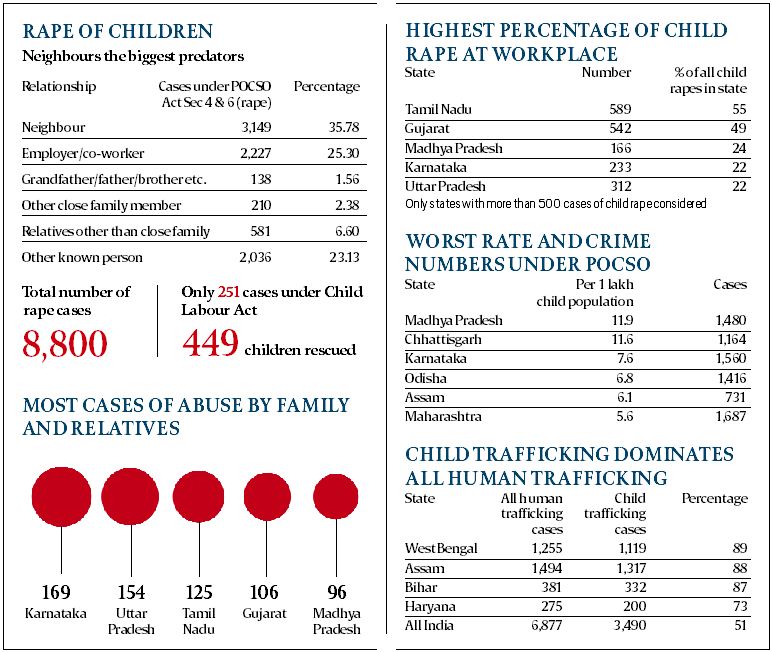 A total of 95,893 cases of kidnapping and abduction were registered during 2017, showing an increase of 9.0% over 2016 (88,008 cases).
A total of 63,349 children (20,555 male, 42,691 female, and 103 transgender) were reported missing in 2017.
During the year 2017, a total of 70,440 children were recovered/traced, the report said.
III. Riots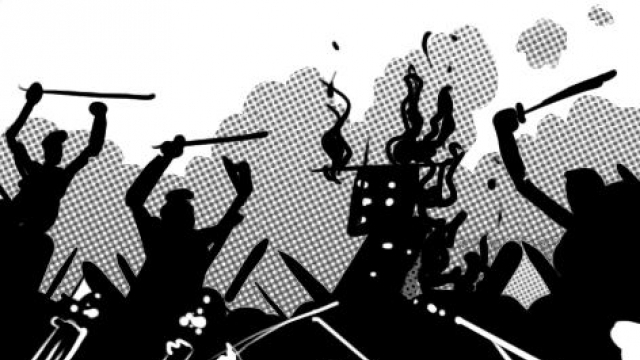 As per the report, 58,880 incidents of rioting were reported, of which the maximum incidents were reported from Bihar – 11,698, followed by Uttar Pradesh – 8,990 and Maharashtra – 7,743.
Of the total riots reported, communal and sectarian riots accounted for 723 and 183 incidents respectively.
There were 805 riots due to caste conflict and 1909 riots occurred due to political reasons, the report said.
IV. Hate Crimes
The incidents registered under the Scheduled Caste Prevention of Atrocities Act saw an increase from 5,082 incidents reported in 2016 to 5,775 in 2017.
Incidents of crime related to Scheduled Tribes dipped from 844 in 2016 to 720 in 2017.
V. Pendency of cases
While the NCRB has always collected data on pendency of cases with police and in courts, this was largely about the number of such cases. In the latest report, the NCRB has also recorded the period of pendency.
The data show police delayed charge sheets in 40% of cases. For IPC crimes, police are supposed to file a charge sheet within 90 days.
But data show that in certain cases such as rioting, which includes communal riots, police delayed filing of charge sheets in 60% of the cases.
It says there are more than 3 lakh cases pending investigations for more than one year. In courts as a whole, 2,71,779 cases were pending trial at the end of 2017.
The New Categories
I. Fake news
The NCRB for the first time collected data on the circulation of "false/fake news and rumors."
Under the category, maximum incidents were reported from Madhya Pradesh (138), Uttar Pradesh (32) and Kerala (18).
II. Anti-National activities
A new category of offenses committed by various categories of "Anti-National Elements" was included.
It showed that the maximum offenses were committed by Left Wing Extremist (LWE) operatives (652), followed by North-East insurgents (421) and Terrorists (Jihadi and other elements) (371).
The maximum number of killings was carried out by LWE insurgents (82).
As many as 72 of these killings took place in Chhattisgarh. This was followed by killings by terrorists (36) — 34 in J&K alone. North-East insurgents killed 10 people.
No data on lynching
The data collected under the new sub-heads of death due to mob lynching, murder by influential people, killing ordered by khap panchayat and murder committed for religious reasons have not been published.
This data was ready and fully compiled and analyzed.
The decision to collect data on lynchings had been taken in the wake of a spate of lynching incidents across the country through 2015-16.
The idea was that such data collection would help the government formulate its policies better in tackling these crimes.
Lynchings happen for a variety of reasons which include suspicion of theft, child lifting, cattle smuggling or communal reasons.
Why need such data?
NCRB's annual crime reports give valuable information about the state of crime in the country.
They give a picture of the law and order situation by tracking the levels of various crimes across states and helping in the assessment of criminal investigation and justice delivery systems.
Significance of the data
The crime records data provide key inputs for policy-making and are needed by the police, other departments and by civil society.
They are also social documents.
Governments should base their policies, decisions, and actions on such data.
It is vitally important that the data is correct and is not misrepresented, and the people have a right to know them.
---
---
References
https://indianexpress.com/article/explained/explained-whats-new-in-crime-report-and-the-data-6082764/
https://www.civilsdaily.com/news/annual-crime-in-india-report-2017/
https://www.deccanherald.com/opinion/second-edit/is-govt-hiding-ncrb-report-too-768943.html