Note4Students
From UPSC perspective, the following things are important :
Prelims level : C-295
Mains level : Aerospace industry in India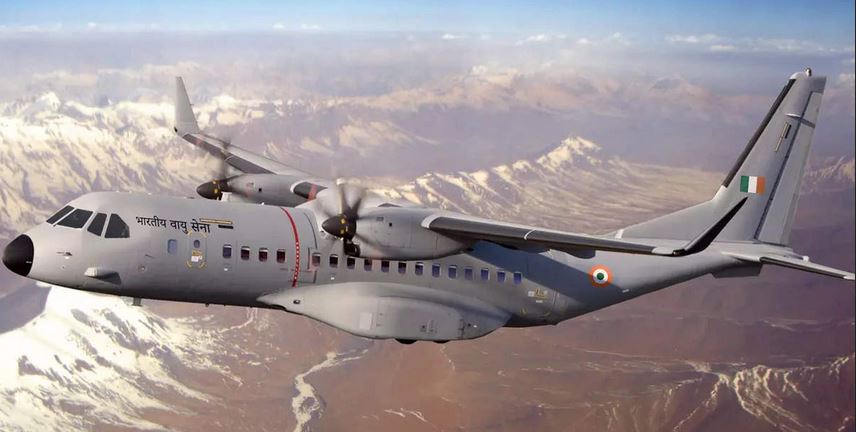 Recently, PM laid the foundation stone for the C-295 transport aircraft manufacturing facility in Vadodara to be set up by Airbus Defence and Space and Tata Advanced Systems Limited (TASL).
Why is it making headlines?
This is the first time a private sector company would be manufacturing a full aircraft in the country.
This is a huge step forward for India in the global aircraft manufacturing domain.
What is the C-295MW transporter?
The C-295MW is a transport aircraft of 5-10 tonne capacity which will replace the legacy Avro aircraft in the Indian Air Force (IAF) procured in the 1960s.
It was originally produced by a Spanish aircraft manufacturer.
This company is now part of Airbus and the aircraft's manufacturing takes place at Airbus's plant in Spain.
Why c-295MW?
The C-295 has very good fuel efficiency and can take off and land from short as well as unprepared runways.
As a tactical transport aircraft, the C295 can carry troops and logistical supplies from main airfields to forward operating airfields of the country.
It can operate from short airstrips just 2,200 feet long and can fly low-level operations for tactical missions flying at a low speed of 110 knots.
The aircraft can additionally be used for casualty or medical evacuation, performing special missions, disaster response and maritime patrol duties.
A boost to domestic aircraft manufacturing
Over the last two decades, Indian companies, both public and private, have steadily expanded their footprint in the global supply chains of major defence and aerospace manufacturers.
They do supply a range of components, systems and sub-systems.
India's collaboration with top firm
Boeing's sourcing from India stands at $1 billion annually, of which over 60% is in manufacturing, through a growing network of 300+ supplier partners of which over 25% are MSME.
Tata in a joint venture (JV) with Boeing, manufactures aero-structures for its AH-64 Apache helicopter, including fuselages, etc.
It also makes Crown and Tail-cones for Boeing's CH-47 Chinook helicopters.
Similarly, Lockheed Martin has joint ventures with TASL in Hyderabad which has manufactured crucial components for the C-130J Super Hercules transport aircraft.
How this has become possible?
The US is simplifying its export regulations for India, through a series of measures.
As US and India together pursue the Indo-Pacific strategy and are enhancing technology prowess.
Boost to India's civil aviation sector
India has a much bigger footprint in civil aviation manufacturing than defence, in addition to being a major market itself.
Both Airbus and Boeing do significant sourcing from India for their civil programmes.
According to Airbus every commercial aircraft manufactured by them today is partly designed and made in India.
India now has world's fastest-growing aviation sector and it is about to reach the top three countries in the world in terms of air traffic.
Another major growing area is Maintenance, Repair and Overhaul (MRO) for which India can emerge as the regional hub.
Conclusion
The private defence sector is still nascent and a conducive and stable regulatory and policy environment will be an important enabler.