Note4Students
From UPSC perspective, the following things are important :
Prelims level : Electoral Trusts Scheme Electoral Bond Scheme
Mains level : Opacity and anonymity in corporate donations.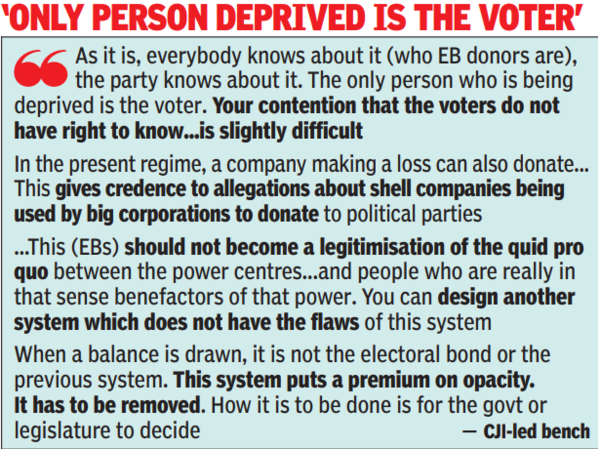 Key Highlights:
Tradition of Secrecy: Indian political parties, historically resistant to public scrutiny, operate in a culture of secrecy regarding their funding sources and applications.
Corporate Dependency: The exorbitant funds required for political processes and operations often come from Big Business entities, creating a financial reliance on these corporations.
Quid Pro Quo: Political parties, in return for financial support from corporations, are often expected to reciprocate with political favors, creating a symbiotic relationship between the two.
Voter Empowerment: Civil society campaigns, notably through Public Interest Litigation (PIL), seek to empower voters by improving access to background information on electoral candidates.
Challenging Legislative Opacity: PIL serves as a tool to challenge legislative attempts to obscure the identities of corporate donors, promoting transparency in political funding.
Democratic Right to Information: The campaign is grounded in the citizen's democratic right to information, an integral aspect of the fundamental right to speech and expression under the Constitution.
Countering Legislative Maneuvers: PIL acts as a countermeasure against legislative maneuvers designed to undermine transparency in political funding.
Challenges:
Hiding Corporate Donors: Political establishments employ legislative tactics to conceal the identities of corporate donors, preventing public awareness of the financial backers of political parties.
Electoral Trusts and Bond Schemes: The introduction of schemes like the Electoral Trusts Scheme (2013) and the Electoral Bond Scheme (EBS) creates barriers that obscure the direct link between political parties and their corporate donors.
Transparency Concerns: Legislative changes raise concerns about jeopardizing transparency, incentivizing corrupt practices, and limiting the accountability of political parties.
Nexus Between Politics and Business: The legislative landscape contributes to a growing perception of a nexus between political entities and big business, raising questions about ethical governance.
Key Phrases for value addition:
Amendments Under Scrutiny: Recent amendments in the legal framework of corporate donations face scrutiny and constitutional challenges.
'Right to Know' Infringement: Allegations arise that these amendments infringe upon the citizen's fundamental 'Right to know' under Article 19(1)(a) of the Constitution.
Transparency Need: The importance of transparency in political funding is emphasized as a cornerstone of a healthy and accountable democratic process.
Autonomy Compromise: Concerns are raised about the compromise of the country's autonomy, with potential negative impacts on governance and democratic values.
Analysis
Undermining Transparency: Legislative changes are criticized for undermining transparency, creating a more opaque environment in political funding.
Electoral Bond Scheme Critique: The Electoral Bond Scheme (EBS) faces critique for introducing opacity in political funding, limiting citizens' access to vital information concerning electoral financing.
Opacity in Politics and Business: The intertwining opacity in political and business spheres is identified as a growing trend with potential repercussions for democratic processes.
Influence of Special Interest Groups: Critics argue that legislative changes enable special interest groups, corporate lobbyists, and foreign entities to exert undue influence on the electoral process.
Key Data for mains value addition:
Favored Donation Mode: Electoral bonds have become the favored mode of political donation due to their anonymity features.
₹13,791 Crore Sales: Until July 2023, electoral bonds amounting to ₹13,791 crore have been sold in 27 tranches.
55.9% Donation Share: Electoral bonds contribute significantly, accounting for 55.9% of political donations received by 31 parties.
BJP's Leading Redemption: The BJP leads in the redemption of electoral bonds, with 74.5% of the total until 2020-2021.
Key Facts:
Opacity and Corruption Concerns: Critics express concerns about the opacity introduced by legislative changes, potentially incentivizing corrupt practices in political funding.
Majority Cash Dealings: Despite the availability of formal options like electoral bonds, the majority of political dealings continue to be in cash.
Electoral Bond Impact: Receipts from electoral bonds enable political parties to engage in formal economy transactions, covering infrastructure, equipment, and media publicity costs.
Ongoing Legislative Scrutiny: Legislative changes continue to undergo scrutiny, impacting transparency and accountability in political funding.
Key Terms:
Electoral Trusts Scheme
Electoral Bond Scheme
Right to Know
Corporate Donations
Transparency
Corruption
Political Funding
Constitutional Challenges
Way Forward:
Hopes for a Level Playing Field: Expectations are pinned on judicial intervention to ensure a more level playing field in future elections.
Upholding Freedom of Speech: The judiciary is anticipated to play a crucial role in upholding the right to freedom of speech and expression, empowering voters with information.
Addressing Transparency Concerns: Recognizing the critical need for transparency, steps are expected to be taken to address concerns related to opacity and anonymity in corporate donations.
Judicial Scrutiny Importance: The importance of judicial scrutiny in ensuring the preservation of democratic values and principles is emphasized.
Get an IAS/IPS ranker as your 1: 1 personal mentor for UPSC 2024
Attend Now