Note4Students
From UPSC perspective, the following things are important :
Prelims level : Kashmir Saffron
Mains level : Not Much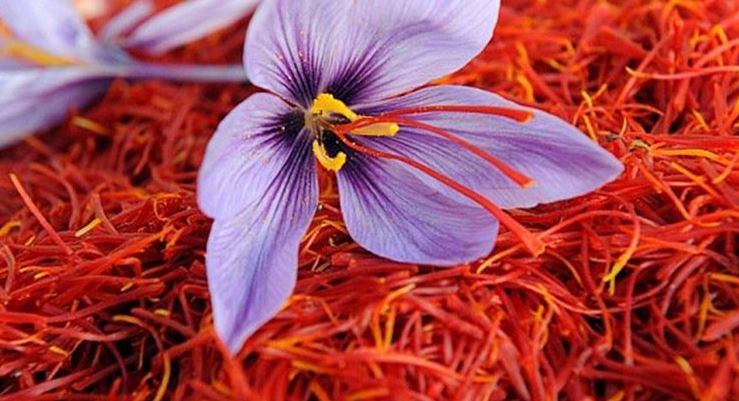 The Directorate of Tourism, Kashmir has organised a saffron festival in the Karewa of Pampore.
Saffron
Saffron is a spice derived from the flower of Crocus sativus, commonly known as the "saffron crocus".
The vivid crimson stigma and styles, called threads, are collected and dried for use mainly as a seasoning and colouring agent in food.
Kashmir Saffron
It is cultivated and harvested in the Karewa (highlands) in some regions of Kashmir, including Pulwama, Budgam, Kishtwar and Srinagar.
It has been associated with traditional Kashmiri cuisine and represents the rich cultural heritage of the region.
Its cultivation is believed to have been introduced in Kashmir by Central Asian immigrants around 1st Century BCE. In ancient Sanskrit literature, saffron is referred to as 'bahukam'.
In 2020, the Centre issued a certificate of Geographical Indication (GI) registration for Saffron grown in the Kashmir Valley.
Major types
The saffron available in Kashmir is of three types —
'Lachha Saffron', with stigmas just separated from the flowers and dried without further processing;
'Mongra Saffron', in which stigmas are detached from the flower, dried in the sun and processed traditionally; and
'Guchhi Saffron', which is the same as Lachha, except that the latter's dried stigmas are packed loosely in air-tight containers while the former has stigmas joined together in a bundle tied with a cloth thread
Whats' so special about Kashmir Saffron?
The unique characteristics of Kashmir saffron are its longer and thicker stigmas, natural deep-red colour, high aroma, bitter flavour, chemical-free processing, and high quantity of crocin (colouring strength), safranal (flavour) and picrocrocin (bitterness).
It is the only saffron in the world grown at an altitude of 1,600 m to 1,800 m AMSL (above mean sea level), which adds to its uniqueness and differentiates it from other saffron varieties available the world over.
Policy moves
The National Saffron Mission (launched as a part of Rashtriya Krishi Vikas Yojana) was sanctioned by the central government in the year 2010 in order to extend support for creation of irrigation facilities.
It seeks to facilitate farmers with tube wells and sprinkler sets which would help in production of better crops in the area of saffron production.
North East Centre for Technology Application and Reach (NECTAR) under Saffron Bowl Project has identified few locations in Arunachal Pradesh and Meghalaya for saffron cultivation.
Click and get your FREE copy of Current Affairs micro notes